Good Questions About Creating eBay Giving Works Listings
Who can list with eBay Giving Works?
We invite every eBay member - individuals and businesses - to use the program to support their favorite nonprofit. As long as you have a Seller Account and are in good standing with eBay, and have read and accepted the program's Terms & Conditions, you're all set to go!
What are Community Selling and Nonprofit Direct Selling?
Community Selling is when an individual or business lists an item and donates 10%-100% of that item's final sale price (minimum $1) to a nonprofit. (For most eBay Motors vehicle listings, the minimum donation is 1%.)
Nonprofit Direct Selling is when a nonprofit uses eBay Giving Works to sell its own items. Each nonprofit can have several direct sellers, such as staff members or volunteers. An organization also can engage an eBay Trading Assistant or auction management agency. Direct Selling only applies when the items being sold are actually owned by the nonprofit (products it makes, assets it purchased, or items that were donated).
Can I get a credit on my selling fees?
Yes! When your item sells eBay gives you a credit on your Insertion and Final Value fees prorated to the percentage of your final sale price that you donated. PayPal fees and fees for listing upgrades such as additional pictures still apply. Learn more about eBay Giving Works fee credits.
How do I get started?
To get started, sign up to become an eBay member and create an eBay seller's account. When you're ready to sell, select a nonprofit to support. Then find an item to sell, decide on the percentage of the final sale price you'll donate (10% to 100%, 1% for most eBay Motors categories), and create your listing. View our step-by-step listing tutorial.
Can I use my favorite listing tool?
At this time, these listing tools will allow you to create eBay Giving Works listings: Turbo Lister, Blackthorne, ChannelAdvisor, Infopia, Vendio, and Kyozou. Don't see the one you use? We'd love to add even more tools to this list, so please be sure to talk to your application provider.
How can I add eBay Giving Works to an active listing?
In the Revise Your Listing form, look for the eBay Giving Works section (found in "Choose how you'd like to sell your item"). Select a nonprofit to support. Choose one of those we show you, or choose "Or, select another nonprofit you love" to search our database of nearly 17,000 nonprofits.
If this is your first time listing with eBay Giving Works, you'll be asked to read and accept the program's Terms & Conditions before you can add a nonprofit to your listing.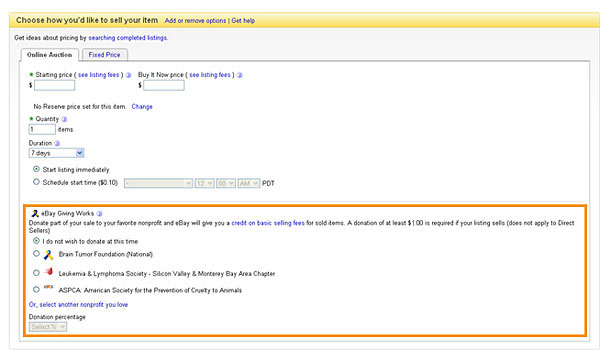 Learn more about how to revise your listing.
How can I change the donation percentage or nonprofit in an active listing?
You can increase (but not decrease) your donation percentage at any time through the Revise Your Listing process. You can't change or remove the nonprofit in an active listing.
What if my favorite nonprofit isn't in the directory?
Invite the organization to join! An email will be sent to the nonprofit telling them about eBay Giving Works and how to participate in the program. The process is easy and free, and once they've gone through the certification process, you'll be able to find them in the directory within 1-2 business days.
Can my listing benefit more than one nonprofit?
Each individual listing can benefit only one nonprofit. You can have multiple listings running at the same time but benefiting different nonprofits

Back to Good Questions.