Packing and Shipping Tips
Get your items to buyers safe, sound, and on time.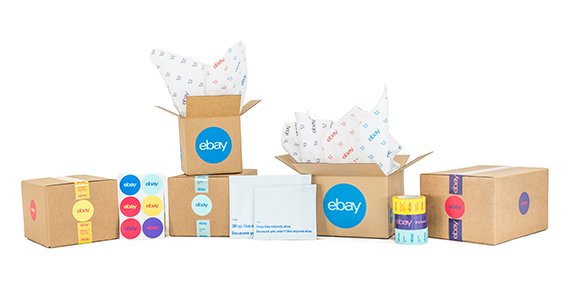 Ship with color
eBay-branded shipping supplies give your orders the professional look and pop of color that will delight your buyers. And eBay Store subscribers receive a quarterly supplies coupon!
Pack it right
Your packaging is a reflection of you as a seller.
Make sure your item arrives as beautifully as it left. When packing, go for a snug fit—but not too snug. Measure the item, and select a box or envelope with enough room for packing materials. Use bubble wrap or biodegradable packing peanuts to get your item to its new home in good condition.
Upload tracking information
How it helps

You and your buyer both gain a lot when you upload your item's tracking info—every time.

Benefits of uploading tracking information include:

Improved buyer experience and confidence. Buyers can more easily determine when their item will arrive, and you fulfill their expectation of an online business.
Improved feedback and Detailed Seller Rating (DSR). Buyers are more satisfied and tend to leave higher DSRs when they can track their purchases. Uploading tracking also helps qualify you for automatic five-star shipping-time ratings.
Better efficiency. Sellers who upload tracking information spend less time answering shipping questions from buyers.
Better protection. Uploading tracking information can provide important documentation to protect sellers during dispute resolution.
Better metrics. Uploading tracking info helps you meet your on-time shipping metric and improve tracking metrics, which helps qualify you as a Top Rated Seller.

Our carrier partners provide automatic tracking for many of their services, making it easy keep buyers up to speed.

When you create shipping labels on eBay, tracking information is automatically uploaded to My eBay (among many other benefits).

Best practices

To make the most of tracking information, follow this advice.

Use eBay labels to create shipping labels and have tracking info automatically uploaded to My eBay and forwarded to your buyer.

If you're not using eBay labels, add tracking info to each item in the Sold section of My eBay.

If you are manually inputting tracking information, take care to:

Input only the carrier's name in the "Carrier" field. Try to use the prepopulated, suggested spelling as you enter the carrier name. Do not enter any other information beside carrier name in this field.
Enter your package's tracking number as soon as possible after tendering the package to the carrier.
DHL and DHL Global Mail have separate tracking websites and tracking number templates. Use the correct one to properly track shipments, and if you are using both, enter only one tracking number per line.
Tender the package to the carrier as soon as possible after printing the shipping label.

For larger sellers

When you're shipping large numbers of orders, you've got a lot to keep track of. These tips can make shipping a lot less work.

Use eBay labels with Shipping Partner Platform: Sellers who sell on multiple marketplaces can now enjoy the time- and money-saving benefits of eBay labels, thanks to the eBay Shipping Partner Platform. In partnership with ShipRush and Shippo, eBay now offers you the same savings and convenience of eBay labels for shipping items sold on all marketplaces.
Use scan sheets: Scan sheets assign a single barcode to multiple packages being picked up by a carrier, so when a carrier scans one barcode, they're virtually scanning the labels of all packages on the list. eBay and all major carriers offer this service using slightly different terminology. With USPS, they're called Scan Sheets; with UPS, Summary Barcode; and with FedEx, Cons Tags.
Upload tracking numbers in bulk: Use File Exchange and eBay Trading Web Services— where tracking information and carrier name can be passed via the Complete Sale API or the Set Shipment Tracking API— or certified providers like ChannelAdvisor and Auctiva, which can upload tracking information to eBay automatically.