Your Seasonal Playbook
Your guide to the most up-to-date tips, best practices, and tools for selling success on eBay throughout the year.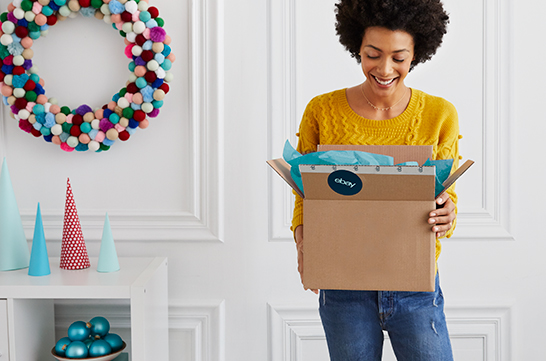 It's here: our guide to holiday shipping for sellers
This holiday season will be unlike any other. So, as buyers get set to shop early, often and online, be sure to check out our holiday shipping guide. It has the latest consumer trends you'll want to consider, plus tips and resources to make your holiday selling season as seamless as possible.

8 Tips to Help You Plan for Selling Success
Use these proven tips to get ready for selling success during peak selling periods.
The Perfect Listing
There are four parts to the perfect listing.
Title - Item Specifics - Quality Photos - Price
Examples of Perfect Listing Titles:
Fashion
Lululemon Cashmere Sweater Medium Blue Mens V Neck New Long sleeve
Womens Astros Jersey Fits Small Medium Pink Stripe Polyester Vintage 80s Retro
Electronics
Dell Latitude E7450 14" i5-5300u 2.3GHz 8GB RAM 256GB SSD Windows 10 Home
Google Chromecast 1st Gen H2G2-42 International HDMI Digital Media Streamer New
Collectible
Hallmark Keepsake Ornament 2010 A Tree for Three Winnie the Pooh Collection Pre-owned
The Umbrella Academy Season 1 - TJ McGibbon (Young Vanya) Autograph FP VL New Card
Pro Tip: Perfect titles AND item specifics help searchability of your listings.
Sell More during Peak Selling Periods
Maximize your sales throughout the year with these tools and resources.
Cash In on Post-Sale Opportunities
Post-sale tips and best practices to keep the momentum going.
Get More Value with eBay Labels
Print, manage, track, and save with eBay labels.
Buyers Look for Free Shipping
Incorporate your shipping cost in the item price.
Keep Selling After the Sale
Offer post-sale deals and discounts.
Taking "Time Away"
Everyone occasionally needs some time away - whether it's to recharge your batteries, take care of an emergency, or catch up on orders during peak times.
You can let buyers know you're away for a period of time without worrying. When you indicate you'll be away, your handling and estimated delivery times will automatically be adjusted. You can also schedule this time in advance.
Change Settings
Stay Current with Seller Insights and eBay News
Get tips and inspiration from sellers like you throughout each selling season.
Listen to our Weekly Podcast
Weekly tips on starting, running, and growing your business.
Learn from Other eBay Sellers
Connect with sellers like you.
Stay Current with eBay News
Need-to-know updates for your eBay business.
Don't Miss a Sale. Save these Handy Checklists.
Save or print these checklists to stay on top of key selling dates.
Refresh for Experienced Sellers