Drive more traffic to your eBay Store
Explore different ways you can attract more visitors to your Store.
On eBay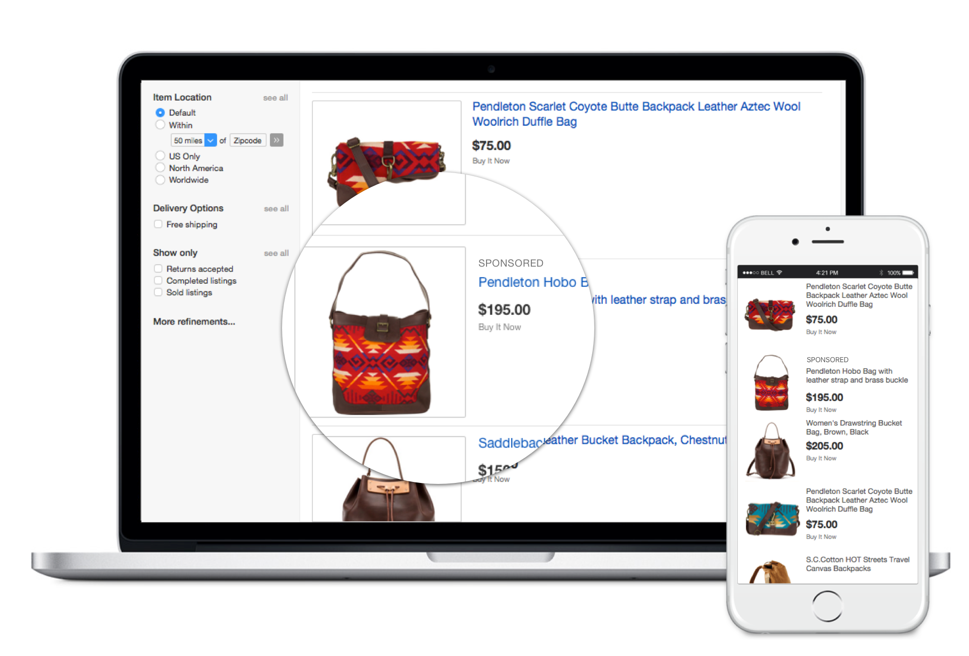 Promoted listings
More visibility equals more opportunity. Promoting your listings is an easy and risk-free way to get your items noticed and drive traffic to your Store. To further elevate your promoted listings, prominent third-party product listing ads have been removed across the eBay platform, and additional promoted listings placements will be added over the course of the year.
Promoted listings is an eBay advertising service that allows you to put your best merchandise in front of active shoppers, increasing item exposure and the likelihood of a sale. You determine what you want to pay to promote your items. Best of all, you pay only when your ad is clicked and the item is purchased within 30 days.
Increase visibility—Ads may appear in prominent locations, such as the 4th and 5th spot on first-page search results.
Full control—Select the listings you want to promote* and decide how much you're willing to pay to promote them.
Easy setup—Setup is quick and easy; your ad is built right from your listing.
Detailed reporting—You can monitor buyer demand and quickly and easily adjust your ads and pricing strategy with robust metrics that include impressions, clicks, revenue, and more.
Top Rated Sellers and Anchor Store subscribers** are eligible to receive promoted listing credits.
Anchor Store subscribers are eligible to receive a $25 quarterly credit.
Top Rated Sellers (regardless of whether they have a Store) are eligible to receive a $30 quarterly credit.
Anchor Store subscribers who are also Top Rated Sellers are eligible to receive both credits, totaling $55 per quarter.
Email marketing campaigns
Create a newsletter that drives traffic to your Store. Using our email design tools, you can create newsletters that are automatically sent on a regular basis, such as a weekly newsletter that promotes your latest listings.
Off eBay
Search engine optimization
Search engine optimization (SEO) is an important and cost-effective way of driving buyers to your Store's listings.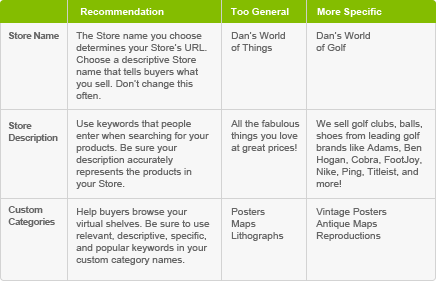 Learn more
Search engine keyword management
Maximize your listing exposure with customized search engine keywords in Manage My Store to improve your Store page rankings in search engines.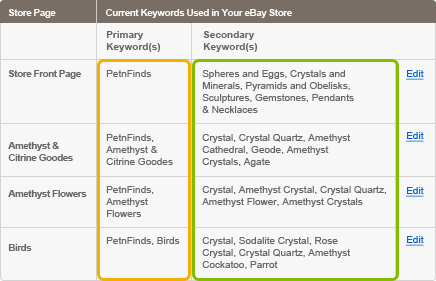 Learn more
On social media
Put the power of social media to work for your business. Using social media channels like Facebook, Twitter, YouTube, and blogs, your business can connect with hundreds and even thousands of current and potential customers. Follow these dos and don'ts to get the most benefit out of your social media.
Do showcase your inventory and build sales by attracting followers The best way to market your inventory and drive more sales is to grow your number of followers. A quick way to garner more followers is by creating both inspiring collections and following other members, collections, and interests that inspire you.
Do stay true to your brand voice Determine what your brand sounds like when you begin building and marketing your Stores and keep your voice consistent. It can be helpful to think of your brand as a person: Does it sound like a professor or a comedian? A best friend or a trusted advisor? Whatever the case may be, staying true to your brand voice makes it easier for customers to connect with your business and its core values.
Do make it a conversation "Social media" is just what it says it is - a social platform that facilitates interaction between users. It's not enough to just post the occasional update. As part of a social community, large or small, sharing other people's content, retweeting, and responding to comments can be as crucial as what you post yourself.
Post relevant and engaging content Instead of concentrating on selling your products in every post, focus on providing value to your followers by anticipating their needs, entertaining them, enlightening them with compelling information, and giving them something to engage with. Of course, if one of your products directly relates to what you are posting, then so much the better.
Do offer promotions and discounts Rewarding your followers with promotions and discounts is a great way to provide them with value for subscribing to your content. You can offer a coupon code for your customers on Facebook or an incentive to get people to retweet your posts.
Do cross-promote social media channels Customers should be able to find your Facebook, Twitter, YouTube, and other accounts on each of your social platforms.
Don't be controversial Social media is lightning-quick. As a result, any online slip-ups can be shared instantly and could potentially damage the reputation of your business. As a general rule, play it safe and avoid posting personal views on topics like religion, politics, and individual choices that may upset your target market or the public at large.
Don't ignore negative comments Respond to negative feedback as quickly and directly as possible. Ignoring or deleting negative comments may make you appear disinterested or like you're hiding something, which could potentially cause more criticism. A courteous response showing that you are open to handling complaints goes a long way.
Don't over-do it While having an active presence on social media is important, we recommend posting no more than once or twice a day on Facebook, and tweeting no more than two or three times a day on Twitter. Above all, make sure to prioritize quality over quantity. No one appreciates a feed that's cluttered with junk.
eBay for Business Seller Blog Library
Learn more about selling on eBay. Read eBay for Business blogs that cover topics ranging from Promoted Listings best practices to building followers on Social Media—and everything in between.
*Promoted listings is an advertising service exclusive to items bought and sold on eBay. You can only promote multi-quantity fixed price listings in selected categories that are displayed in the promoted listings service. Each campaign can have up to 500 listings included. Ad fees are calculated based on the ad rate selected. These fees are in addition to all standard selling fees and any other applicable fees.
**To be eligible for the promoted listings quarterly credit, sellers must have a valid eBay registration address in the US. Sellers using My eBay can verify their registration address at My eBay > My Account > Addresses > Registration address.