Show off your brand with a Store designed to sell
Turn browsers into repeat buyers with a custom Store homepage.
Seller Center
Branding Your Store
Design Your Store Homepage Quickly and Easily
These special features are exclusively available to eBay Stores subscribers.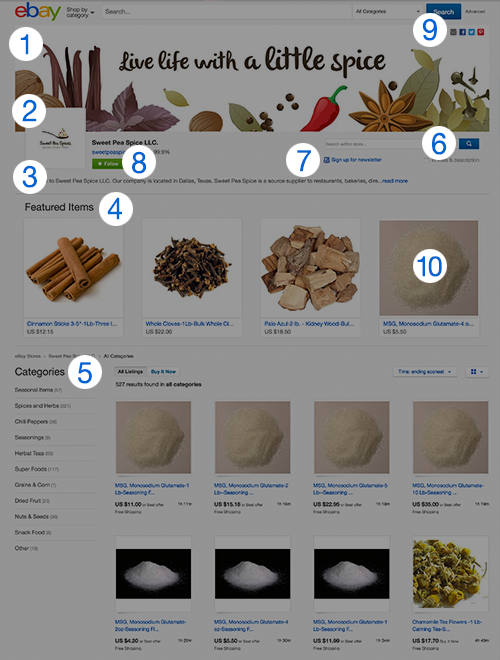 Billboard image

Perfect for promoting your brand, your products, or highlighting limited-time promotions.

Store logo

A graphic symbol that embodies your brand and can be easily recognized by your customers.

Store description

Tell buyers your story using keywords that clearly describe your Store and your items.

Featured items

Showcase select inventory from listings ending soonest or newly listed, or handpick what you want to feature.

Categories

These are the "aisles" or "shelves" of your Store. Use up to 300 custom categories to organize and display your items.

Store search box

Allows buyers to search for items within your Store.

Sign up for newsletter

Interested buyers can get the latest updates when they subscribe to your promotional email newsletter.

Follow button

Keep your fans and customers coming back. When users follow you, your items can appear in their home page feed.

Sharing buttons

Easily promote your Store on Facebook, YouTube, Pinterest, Twitter, and email.

Larger photos

Show off items you want to feature. Larger photos are especially important for selling to the growing ranks of shoppers using mobile devices.
Attract Buyers at the Right Time
eBay is committed to promoting key retail moments to shoppers. Use promotions to highlight your relevant merchandise and convert the increased traffic we are sending your way into more customers.
eBay for Business Seller Blog Library
Learn more about selling on eBay. Read eBay for Business blogs that cover topics ranging from designing your custom Store homepage, to boosting sales and everything in between.
Have Questions about Designing Your Custom Store Homepage?
Find your answers in our FAQ center.
Go to FAQs