Advanced shipping
Take your shipping practices to another level to reach more buyers and grow your business
Seller Center
Advanced Shipping
Boost Sales Up to 11%* When You Offer Fast 'N Free
Free shipping and fast delivery are often the final purchase considerations for buyers. To put these sales-driving services front and center, eBay displays the Fast 'N Free logo when:
The listing offers free shipping
Both the buyer and the seller are in the US
There is a high probability that the item will be delivered within 4 business days or less

Buyers see the Fast 'N Free truck logo right on your item page and in search results
For the best possible chance of your listings displaying the Fast 'N Free logo, specify 1-day or same-day handling, and offer free expedited or standard shipping. Plus, when you offer same-day handling, you reduce your delivery estimate by a full day.
Automatic 5 stars for shipping
When the Fast 'N Free logo appears, and your item is delivered on or before the carrier's maximum published timeframe, any lower buyer rating for shipping time is automatically converted to 5 stars.
Follow these recommended best practices
Offer free shipping on your listings
Designate a specific expedited shipping method in your listing, like USPS® Priority Mail or FedEx® Express Saver
Provide precise item location
Manually upload tracking, or use eBay labels to automatically upload tracking for you.
See How to Grow Your Sales with Fast 'N Free
Jack Sheng, co-founder and CEO of eForCity, talks about how his company has increased sales with Fast 'N Free.
Handling Time
What It Is and How You Set It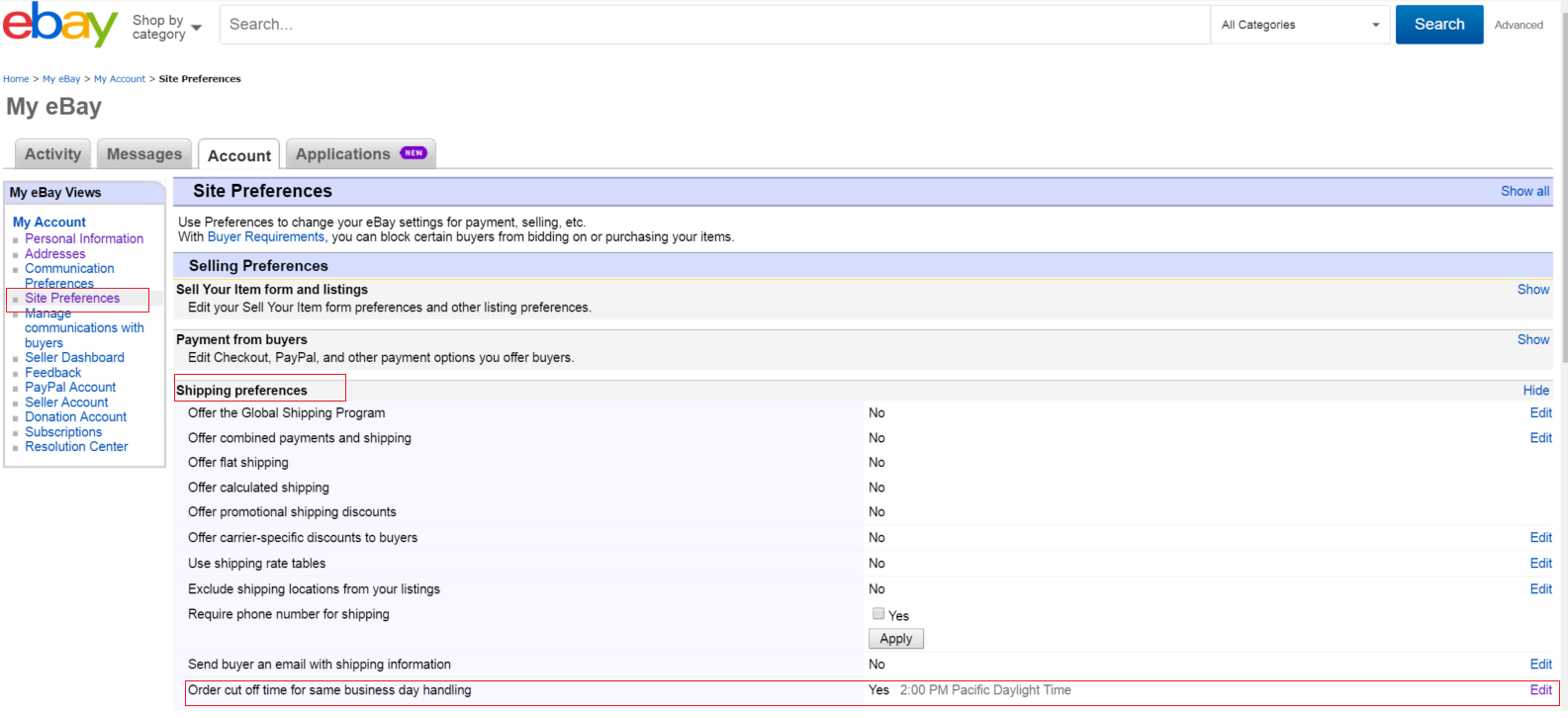 What is handling time? Handling time is the number of business days between when you receive payment and when your package is scanned by your shipping carrier. Needless to say, buyers like to get their items fast. So the sooner you ship, the happier they'll be.
How to set your same-day handling cut-off time You can set your own same-day order cut-off time, which will then be communicated to your buyers (for example, "Orders received by 1:00 pm PT are shipped the same day").
To specify your order cut-off time for same-day handling, go to your Shipping Preferences in My eBay and click Edit. Once selected, this will be the time by which buyers can place an order to have it shipped (i.e., scanned by your carrier) by 11:59:59 pm PT the same day.
How It's Calculated
Handling time is measured in business days—weekends and holidays don't count. Remember, the handling time clock begins once you receive payment from your buyer and ends once your carrier scans the package.
Use the chart below to know when your package must be scanned in order to meet your stated handling time.**
Examples of 2-day handling time
| If payment clears by: | Your package must be scanned by: |
| --- | --- |
| Monday, 9 am PT | Wednesday, 11:59:59 pm PT |
| Thursday, 2:01 pm PT | Monday, 11:59:59 pm PT |
| Friday, 2:01 pm PT | Tuesday, 11:59:59 pm PT |
| | |
| | |
Examples of one-day handling time
| If payment clears by: | Your package must be scanned by: |
| --- | --- |
| Monday, anytime until 11:59:59 pm PT | Tuesday, 11:59:59 pm PT |
| Friday 2:01 pm PT | Monday 11:59:59 pm PT |
| | |
| | |
Examples of same-day handling time (assumes an order cut-off of 2 pm PT)
| If payment clears by: | Your package must be scanned by: |
| --- | --- |
| Monday, 9 am PT | Monday, 11:59:59 pm PT |
| Monday, 2:01 pm PT | Tuesday, 11:59:59 pm PT |
| Friday 2:01 pm PT | Monday 11:59:59 pm PT |
| | |
| | |
Why It Matters
Handling time is a commitment you make to your buyer, promising that their package will arrive on time. It sets expectations and helps differentiate your listing from sellers with longer handling times.
If you know you can meet them, offering same- or 1-day handling times can also help you:
Improve your listings' chances of getting the Fast 'N Free logo —which can increase sales up to 11%*.

Qualify for the Top Rated Plus discount and seal—when you offer a 30-day (or longer) money-back return policy. One-day or same-day handling is not required to be a Top Rated Seller

Check your seller dashboard to stay on top of your shipping rate

Your seller dashboard provides detailed, up-to-date insight into a number of performance metrics, including your late shipment rate. Check it often to see how many transactions weren't shipped on time—and download a report with more specifics about individual transactions.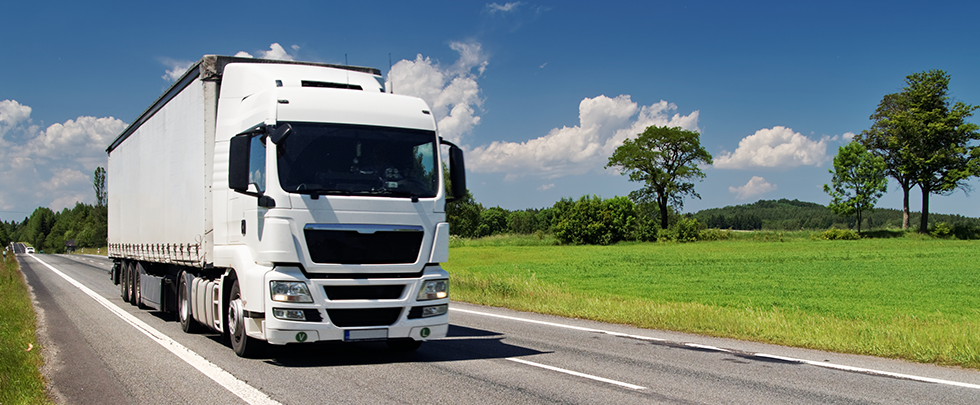 Freight Shipping
Offering flat-rate freight simplifies the listing process by providing an accurate shipping estimate to your buyers. Plus, eBay's carrier partner discounts help you save on overall shipping costs, including up to 72% on select FedEx freight rates.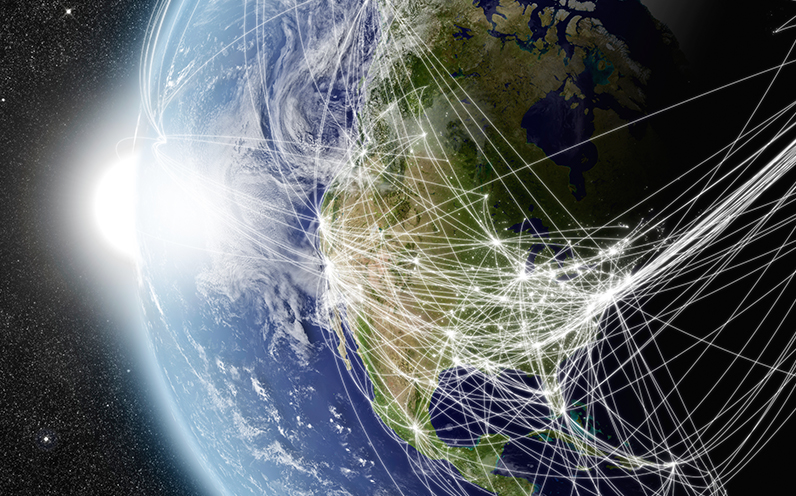 International Shipping Made Easy
The Global Shipping Program takes the complexity out of international transactions and open your listings up to new markets across the globe. You just ship your sold item to the Global Shipping Center and the Program takes care of the rest, including paperwork, customs fees, and end-to-end international tracking.
Tracking Information
Upload tracking every time to keep you and your buyers informed
Uploading tracking on your items ensures a great experience for your buyers, and allows you to keep track of your sent items. Our carrier partners, including USPS, FedEx, and UPS, provide automatic tracking for many of their services}, making it even easier to keep your buyers up to speed. Other benefits include:
Improved buyer experience and confidence. When you upload the tracking information, buyers can more easily determine when they will receive their packages.
Improved Feedback and Detailed Seller Rating (DSRs). When buyers can track the progress of their shipment, they're more satisfied and tend to leave higher DSRs. Uploading tracking information also helps you qualify for automatic 5-star shipping-time DSRs.
Seller efficiency. Providing tracking information tends to reduce the amount of time spent answering shipping-related buyer questions.
Seller protection. Tracking information also provides built-in seller protection throughout the resolution process.

For seller protection, the carrier's tracking details must include a delivery scan with the delivery date that meets the estimated delivery date and the recipient's address (note that some carriers only show the recipient's city).

On-time shipping metric. Uploading tracking info helps you meet your on-time shipping metric. When you upload accurate tracking information, you improve your Tracking metrics, which help you qualify to be a Top Rated Seller.
Once you've uploaded tracking information, it appears in the following places:
The item's Order Details page
My eBay
Feedback page
Automated order update email
*Percentage calculated is based on sales of listings that converted to Fast 'N Free. Individual seller results may vary. Percent increase in sales depends on, among other things, item price, inventory, shipping cost, shipping speed offered, and historical performance of seller. Calculation assumes that sellers don't increase the item price while making these changes.
**eBay gives you until 11:59:59 pm PT for the initial acceptance scan to be recorded. Check with your individual carrier for their specific cut-off time, which could be as early as 11 am PT. Be sure to drop-off packages during your carrier's business hours. Packages left in a night drop-box outside of business hours can result in an acceptance scan delay and cause you to not meet your stated handling time.
†Terms and Conditions will apply.