Get detailed performance insights daily
Kristi Diemoz, senior manager, eBay Marketplaces walks you through it
Seller Center
Defect Removal and Report
Save Time with Automatic Defect Removal
Now you can stay focused on selling
As part of our seller performance standards, the eBay defect removal policy automates the process of getting defects removed from your performance record. But that's not all. We've also introduced an enhanced Transaction Defect Report that provides you with data that's updated daily, and displays those defects that are removed by eBay. Download this report each evaluation cycle to ensure this data is saved in your report history.
Highlights
Under the defect removal policy, certain transaction defects received for reasons outside a seller's control will be automatically removed from the seller's performance standards and feedback profile. For example:
The buyer did not pay for their order and an unpaid item is recorded against the buyer.
An eBay Money Back Guarantee or PayPal Purchase Protection request is ruled in the seller's favor.
The defect was the direct result of an eBay site issue or an eBay program error.
eBay takes action on a buyer for activity that violates the Buying Practices policy.
eBay or PayPal instructs you to hold a shipment or takes action to cancel the transaction.
eBay can determine through valid tracking that the defect was the direct result of systemic delays in shipping or communication. Examples include wide-scale shipping carrier delays, items stuck in customs, or power outages due to extreme weather. Actual events will be listed on eBay's announcement board.
The Transaction Defect Report provides you with daily updates that are synced with your seller dashboard, access to the defect details, and displays the date a defect was removed by eBay.
Be sure to visit your Seller Dashboard and download your enhanced Transaction Defect Report monthly. Doing so will ensure your Transaction Defect Report is stored in your report history.
Here's How We Improved Your Report Grid
| | | |
| --- | --- | --- |
| Functionality | Current report | Enhanced report |
| Lists defects | Yes | Yes |
| Accessible via Seller Dashboard | Yes | Yes |
| Updated daily | No | Yes |
| Filters by program, evaluation period, defect type | No | Yes |
| Includes history of previously downloaded reports | No | Yes |
| Shows removed defects | No | Yes |
| Available to Customer Support | No | Yes |
See What's New in the Reports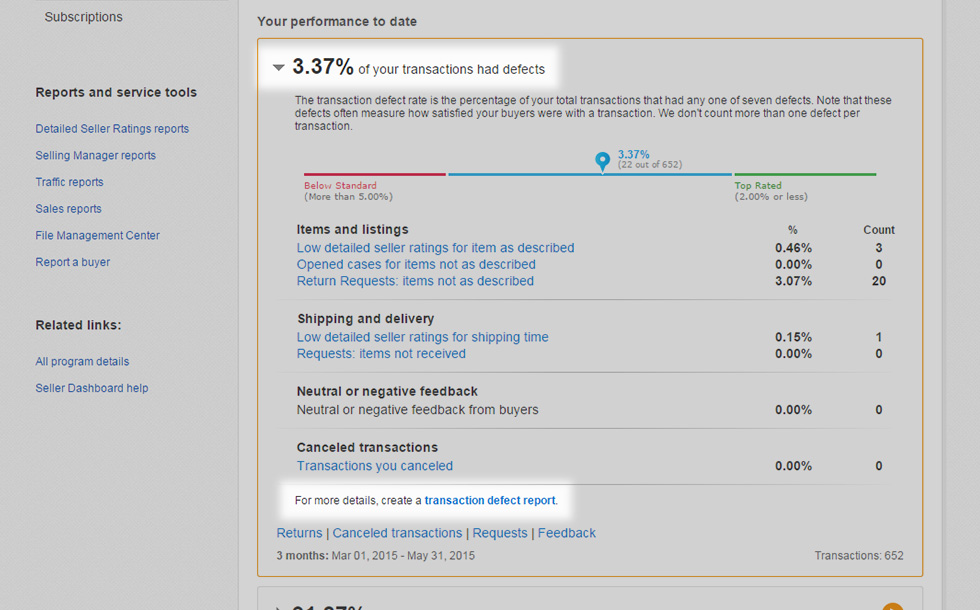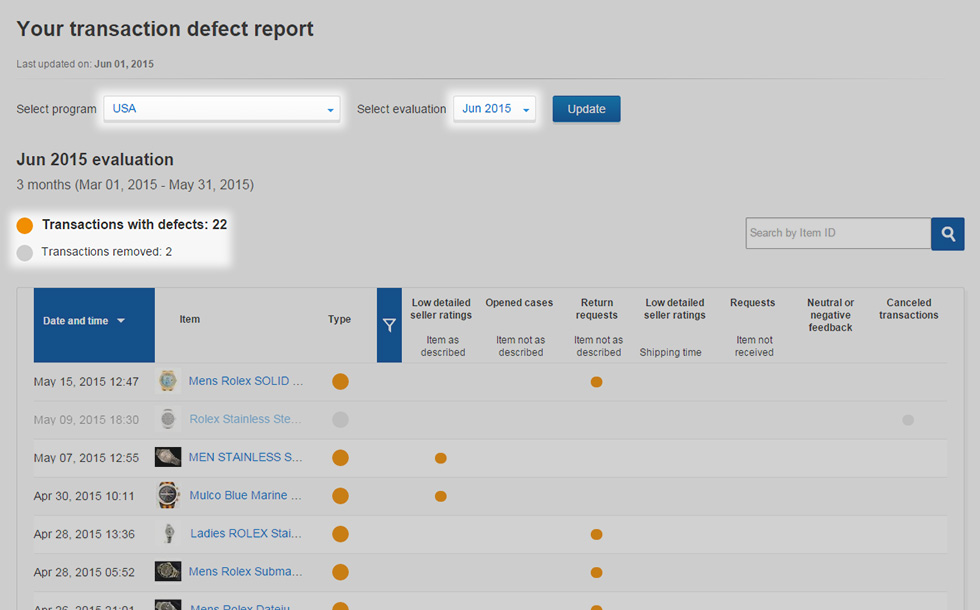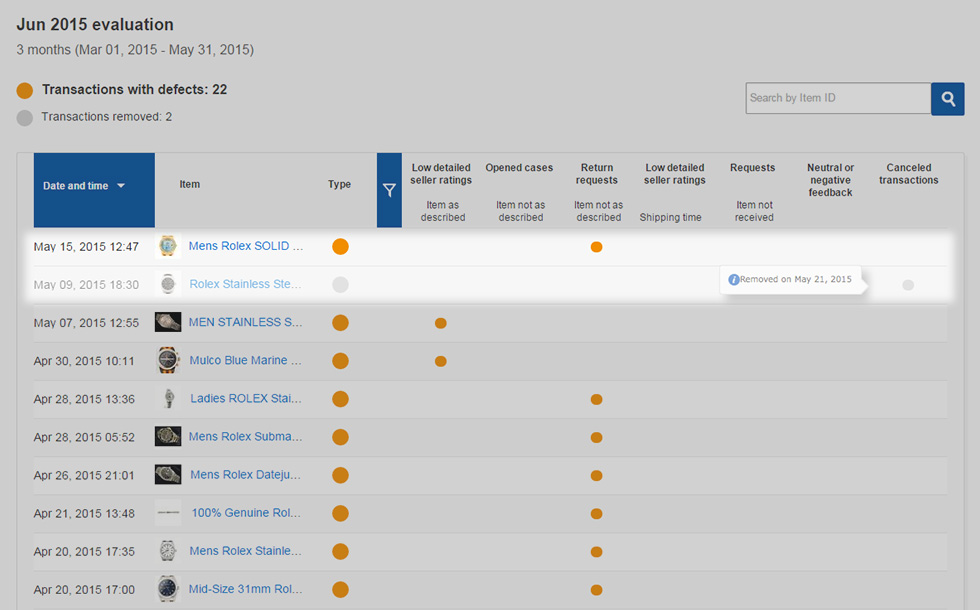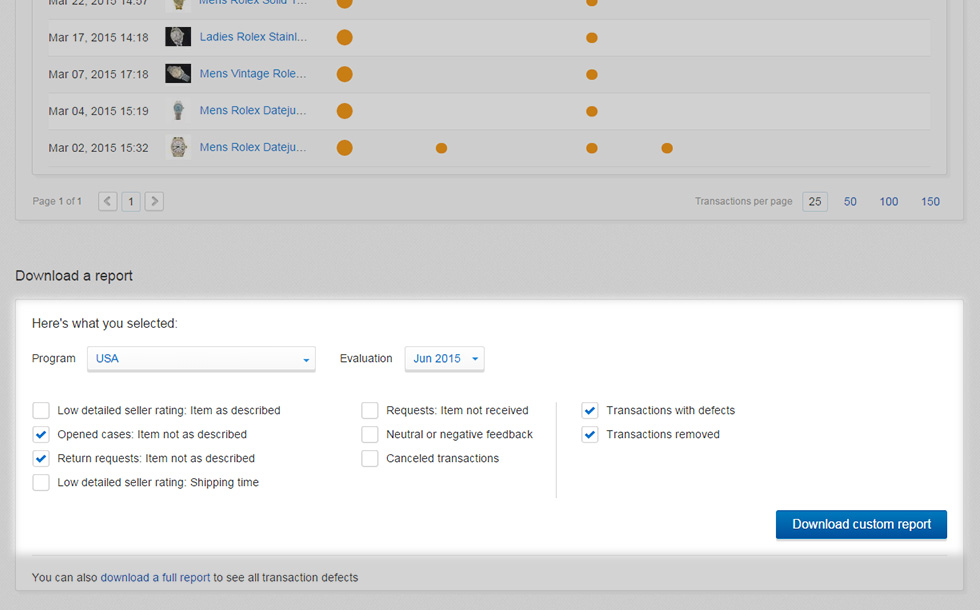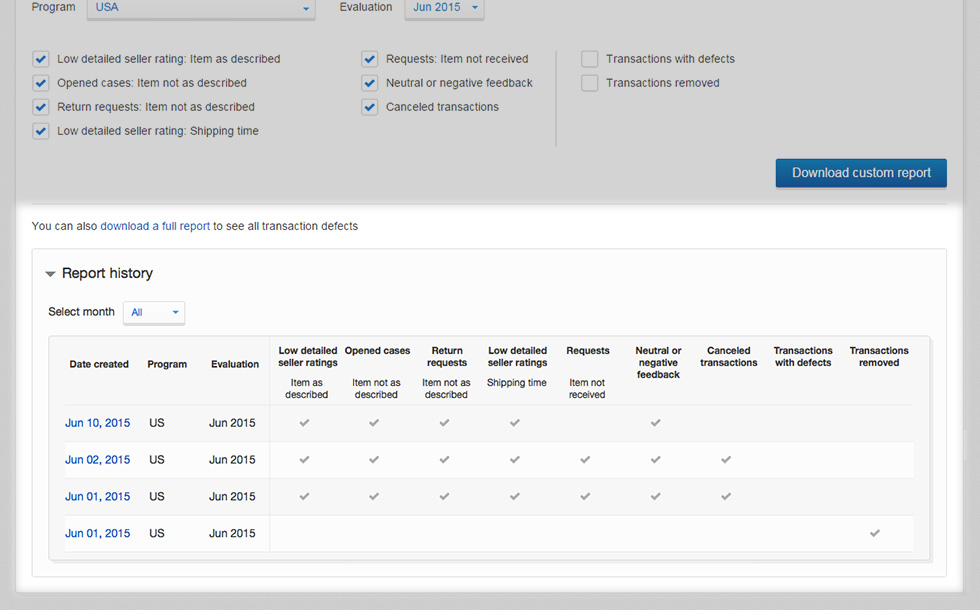 Accessing your new transaction defect report

To view this report, go to your seller dashboard and expand either the "Current seller level" or the "If we evaluated you today" section. Then expand the transaction defect rate section and click "Get full report".

Get more details

On the report page, you can see the regional program, month, and legend.

Walking through a report

The Transaction Defect Report page shows a breakdown of your transaction defects, including those defects removed by eBay and detailed listings/online-pricing.

Using the filters

The filter makes it easy to focus on specific issues. For example, if you want to focus on cases closed without resolution, just apply a filter to isolate those defects.

Creating reports

When you've identified the information you want to keep, click the download button to create a report to save the monthly data that's most important to you.

Downloading the full report

Click "Download a full report" to see all transaction defects. When you download a report, it will be saved in your report history, so you can refer back to it later.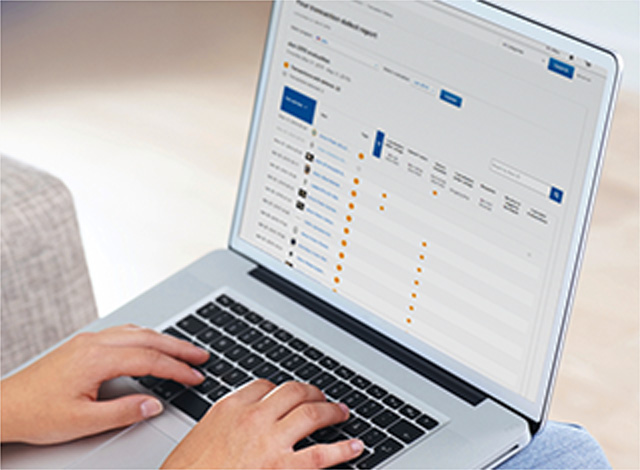 Download Your Monthly Report
Getting there is simple: Go to your seller dashboard, expand the transaction defect rate section under the "Current evaluation" or the "If we evaluated you today" section. Then click "Get full report".