Take great photos
Great photos can help you sell more. Product photos are a vital part of selling on eBay and help boost your chances of selling. To maximize your visual appeal, include multiple item photos as often as possible. You get 12 photos FREE on most listings. Start making money now—it's FREE and easy to list
Seller Center
Take Great Photos
Fashion special tips
Help Your Buyers Get the Picture-perfect Outfit They're Looking For
Tip #1: Show the fit, and show it all
Using a model, dress form, or mannequin is a better way to show clothing fit than on hangers or laying on a flat surface. Photograph all angles and include close-ups of patterns, trims, hardware, or textured materials.
Tip #2: Share any wear and tear
Show any wear, tear, or blemishes to set buyer expectations about the item's condition.
Tip #3: Shoot shoes from different angles
Buyers want to see the front, top, sides, and bottom of shoes.
Tip #4: Display handbags inside and out
Photograph the interior and exterior, the front and bottom of the bag, inside lining, and tags. Also, use the new Handbag Measurement Guide and provide the size in your item description.
Tip #5: Include the tags and labels
Photograph labels and tags on clothing. If the item is still in the box, take shots of that as well.
Mobile buyers
Optimize Your Pictures for Mobile Buyers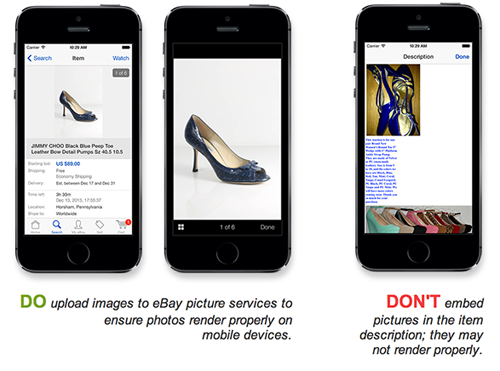 Make it easy for buyers to see your item on their mobile devices by including up to 12 pictures in your listing using eBay picture services. While your listing may include photos embedded in the item description area, these may not render properly across every mobile device platform.
Mobile photo video tips
Tap into These Mobile Photo Videos
1. Keep the lens clean
Use lens cleaning solution or a soft cloth or even a T-shirt in a pinch.
2. Check your settings
Make sure your camera is set to the highest resolution.
3. Turn off flash
Shadows, reflections, and greyness will make your photos less attractive.
4. Minimize camera movement
Place the camera on a flat surface and use the shutter timer to eliminate excess motion.
5. Consider third-party camera apps
May allow you to capture more detailed photos and edit them.
Photo Quality Requirements
Successful listings start with great photos. Listings with better photo quality are 5% more likely to sell.*
Photo requirements to remember
Every listing must have at least one photo
Listings without accompanying photos are no longer allowed. If your item isn't something you can photograph yourself (e.g., a vacation package), browse the Internet for copyright-free images you can use with your listing.
Minimum photo size
eBay requires a minimum length of 500 pixels for the longest side; setting your camera's default to High or Medium photo quality will ensure your photos are large enough.
Click here to watch a demo that will show you how to find photo sizes on a PC and a Mac.
Don't use borders on your photos
Borders aren't allowed on any of your photos. The only exception is if you have a "natural" border created by photographing your square or rectangular item against a neutral-colored backdrop.
No text or artwork on photos
No text or artwork (such as "free shipping" or seller logos) may be added to photos. Copy that is essential to your listing should be placed in the title, subtitle, or item description.
Stock photos can only be used for brand-new items
Stock photos may no longer be used as the primary photo for a used item listing. Catalog images are acceptable, but not as the primary photo for used items; exceptions are the Books, Movies, Music, and Video Game categories. Catalog images for video game consoles, however, must adhere to the new requirement
Enabling the zoom/enlarge feature
Your listing photos will be automatically enabled with a free zoom/enlarge feature on the view item page if they are high enough resolution. We recommend photos be between 800-1600 pixels on the longest side (height or width). Images less than 800 pixels on the longest side will not have this feature enabled.
*Likelihood to sell based on an eBay study that reviewed 6.8 million listings that resulted in an increase in 4.5% more sales over this period; "better photo quality" defined as photos that measure 500 or greater pixels on the longest side, do not have added text or graphics, and are uploaded to eBay picture service. Individual results may vary and results assume that sellers do not increase the item price while making these changes.