Save time and money with eBay labels
With free, convenient package pickup and savings of up to 25%* on Priority Mail®, eBay labels are the smarter way to ship
Why eBay labels?
Watch how Kerry uses eBay labels so she can save money and focus on growing her business.
Shipping is fast and easy with eBay labels. Just click, print, and ship.
eBay labels lets you:
Create and print USPS or FedEx labels from any printer. Labels are auto-filled with your buyer's shipping information for your convenience.
Prepay for discounted postage and Delivery Confirmation with PayPal in My eBay.
Order free co-branded shipping supplies—USPS boxes and envelopes.
Schedule free USPS carrier pickups or drop your packages off at any staffed FedEx location.
Build customer loyalty by automatically sharing tracking information with buyers. When you print shipping labels from My eBay, the USPS or FedEx tracking number is automatically updated on My eBay and the eBay order details page. An email with the Delivery Confirmation number is sent to your buyer so that they know the item has shipped. Include a personalized thank-you note and customized packing slip with your return policy in your shipment.
Easily manage your shipping from the "Track and manage shipments" page in My eBay.
Reprint a label at no extra charge or void a label you don't use within five days.
eBay labels now available on your mobile device (Android & iOS).
Purchase and print shipping labels through the eBay mobile app.
Print labels via Wi-Fi enabled printer or by emailing the purchased label to your email id.
Available with eBay app on Android 2.8 or later and iPhone 3.5 or later.
Before using eBay labels on a mobile device you must have first used labels on the eBay site (desktop) and accepted the user agreement.
For more help with printing from your mobile device click here.
See how eBay labels simplifies shipping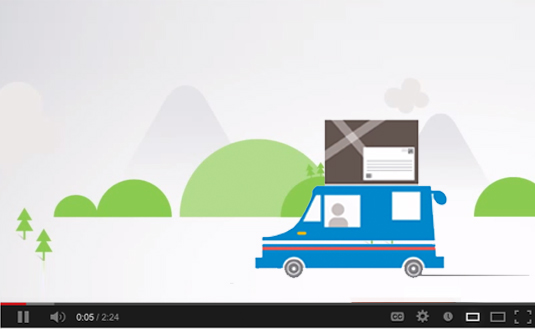 Pay for postage and print shipping labels on eBay
A step-by-step look at eBay labels
Start in My eBay
In the Sold section in My eBay, click "Print shipping label." If you have several items for shipment, click "Print shipping label" on your first item. Then print the shipping label for your next item from the eBay labels page.

All the information you need to create your label is on the Print a shipping label page.2. From My eBay, click on "Purchase and print postage". Review the order information for the buyer's user ID and transaction details.

The "Ship from" and "Ship to" information is pre-populated with seller and buyer addresses. Click "Edit" to make changes or add a message to your buyer.

Choose your shipping preferences—carrier, service and delivery options—in the "Package Details" section. If you'd like a SKU or item number to appear on the shipping label, check the box and enter it in the field provided. Then select the date you'll ship.

Click "Print a packing slip" to include a packing slip inside your package with a personal message to your buyer. Many sellers use this as an opportunity to thank their buyers and request feedback on the transaction.

Review all shipping costs and click "Purchase postage." The first time you print a USPS label you can set up automatic payment with PayPal by checking "Pay and print." For FedEx® label services, eBay pre-pays for you. No need to pay until you receive your monthly statement.



Double-check that your postage purchase and cost is correct. The tracking number and order status is now being automatically uploaded to My eBay and sent to your buyer.

Review and print your shipping label, manage your shipments, and print your next label.

Confirm that the label in the preview window is correct. If you're satisfied with it, click "Print postage label" button.

To print another label, click "Ship your next item". To reprint a label, click "Reprint this label." To void a label, click "Void label" and follow the instructions. You have 5 days to void a label. To manage your shipments, click the "Manage your shipments" link.
Extra shipping tips and resources
Read answers to frequently asked questions about eBay labels.
Get special eBay discounts from USPS, UPS, and FedEx.
Connect with other eBay sellers and get the tools, tips, and inspiration to grow your business.
Boost your sales and ratings, and lower your costs.
From My eBay you can pay for discounted postage, print shipping labels, and upload tracking.
Print up to 50 USPS shipping labels at once.
Estimate shipping costs with ease.
Get FREE eBay and USPS co-branded Flat Rate boxes sent right to your home.
Boost your shipping DSRs and lower your shipping costs with these best practices.
See how offering Fast 'N Free shipping can increase your sales and improve your seller rating.
Offer Fast 'N Free shipping: You'll get an automatic 5-star seller rating on shipping and handling and you could increase sales by 11%†.
The latest eBay mobile app gives you suggestions for which shipping method to use and how much it will cost.
*Optional feature fees and final value fees apply. Excludes some listing styles and categories. See details.