Seller Dashboard
See where you stand on vital seller stats
A personalized Seller Dashboard is available to all sellers. You can see your total number of selling transactions during the past year, total sales volume, and the time since you registered as a seller.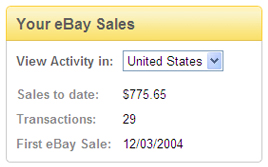 If you have 10 or more detailed seller ratings (DSRs) within the last 12 months, you have access to more information, including your performance rating. The dashboard is an essential tool for managing your eBay business, helping you reach eBay Top-rated seller status, and accessing the data you need to run a successful business online.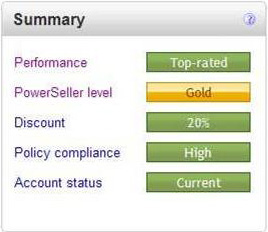 See at-a-glance your standing in
Detailed seller ratings (DSRs)
See your rates of low DSR scores, as well as your average DSR scores in all areas, to help you monitor, adapt and improve. Compare your scores with the minimum requirements for rewards.



Policy compliance (and risk of restriction)
Understand eBay policies. See if you have a violation and learn to avoid restrictions.



Account billing status
See your balance, payment status and related alerts.
Check your Seller Performance
Find out whether you're Top-rated, above standard, or below standard.

Check to see if you've met all the conditions for having an established track record, so you can get your funds quickly.

Easily understand what it takes to earn PowerSeller and eBay Top-rated seller status, and the benefits associated with these ratings – including the 20% discount off Final Value Fees exclusively for Top-rated sellers.

Check your current performance and your last evaluation against average DSRs and percentage of low DSRs (1s and 2s), and the required performance level.

Review information on eBay Buyer Protection cases that are opened (cases your buyers opened in the eBay or PayPal Resolution Center that pass checks for buyer abuse or fraud) or closed without seller resolution (cases closed without your response or resolution).
You'll see your information for transactions in the US – plus, you can click through to see information on transactions in the UK, Germany and – available for preview now – your transactions in the Global marketplace.
Run Reports
For sellers with more than 100 annual transactions, check out your Seller Performance Reports to get in-depth information in key areas. Review the "Areas for improvement" section — the first chart analyzes buyer Feedback comments, so you know exactly where to focus.
For sellers with fewer than 100 annual transactions, take advantage of the Detailed Seller Rating Reports. Review your DSRs by category. You can even analyze your ratings on free shipping versus paid shipping!
Absolutely free
There's nothing to buy and nothing to download. Remember that you need 10 or more DSRs in the last 12 months to gain access to the expanded information in your dashboard.
Check it often through My eBay to keep track of vital information about your seller account.