Seller Success Stories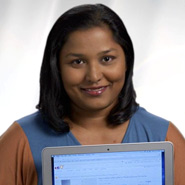 "Now I do 100% of my listings with the mobile app. It's so easy."
- Sunita Rai
We'd love to hear your story:
Get inspired & inspire others
---
More success stories
Bargain-hunter Sunita Rai, sraikh4, has always enjoyed thrift shopping. She discovered that, by selling her finds on eBay, she could easily turn her "hobby" into a profitable business—even as a busy mother of four. And now, selling is so much easier for her with the eBay mobile app that she uses it for 100% of her listings.
Sunita found her way to selling on eBay by way of blogging. "I write my own blog and follow others'. One blogger wrote about buying and reselling plus-sized women's clothing for a profit on eBay and I realized I could do that too!" Soon after reading the blog, Sunita bought a women's cardigan at a thrift store for $3.99, and sold it on eBay for $18.99. Not bad for her first eBay sale! She also resells a variety of other items she finds at thrift stores as well—mid-century modern furniture, vintage dresses, and her favorite, bar carts. "I enjoy it so much, I get very cranky if I can't thrift!"
Successful selling is fun for all ages
Getting started was easier than Sunita expected. She got up to speed fast, and within six months she qualified for Top Rated Seller status. "There is a learning curve, but it is really not that hard, and there is so much good information on eBay to help you. I like selling on eBay because they bring in the most search hits. It's the best selling platform."
"I sell an average of 10-12 items a week and make good profits, while having a lot of fun. Sunita adds, "100% of my items are listed using the eBay mobile app." There are no set hours or pressure, so I can fit my shopping and selling into the time I have available. I hit the thrift stores and sales when the kids are in school, take photos that day, and list that night, after the kids are asleep. I print shipping labels and postage at home, making it fast and easy to ship promptly."
She even has tricks for thrifting with the kids in tow. "Shopping with Mom can be a hard sell for the kids, so I give them each a dollar to buy whatever they want—at thrift stores a buck can go a long way. The kids can spend a long time deciding what to buy while I search for bargains to resell on eBay!"
From thrift store to eBay store
Being informed helps Sunita choose merchandise that sells. "I do research on eBay to see what things go for, but I also follow my instincts. I once saw a 25-cent signed porcelain figurine. I didn't know anything about it, but it seemed worth a try—it sold for over $20!"
After attending her first eBay: On Location event, Sunita was inspired and had many new ideas on how to sell on eBay. She later decided it was well worth the monthly subscription fee to open her own Premium eBay Store, Asaaan Bazaar. Her strategy for slower moving merchandise is "if it doesn't sell within 30 days, I lower the price and relist it for another 30."
Making more than money
Selling on eBay is rewarding for Sunita on many levels. "I get a sense of accomplishment from having my own eBay Store, and creating income for the family. When people used to ask me what I did or what my background was, I'd say, 'I was a stay-at-home mom.' Now I say, 'I'm a seller on eBay, I have my own business.' eBay gave me an identity."
Follow Sunita's lead to Top Rated Seller status