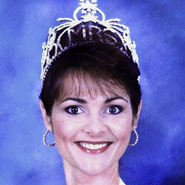 "I started buying on eBay when I moved to Alaska because it was difficult to find certain things where I lived. Soon I realized I could sell all the clothes my kids were outgrowing. That's what started it for me."
- Maureen Reese
We'd love to hear your story:
Get inspired & inspire others
---
More success stories
Busy mom's eBay selling takes off
---
Where did Mrs. Alaska get her stunning dress? Flight attendant, mother of four, and former Mrs. Alaska, Maureen Reese (user ID: mom_in_georgia) bought her 2002 pageant dress on eBay. Since then, she's found that selling things on eBay is a great way to bring in extra income.
Recalling her first sale on eBay, Maureen says, "I was super excited. Princess pajamas that would have gotten fifty cents at a garage sale sold on eBay for nine dollars." While that profit seems modest to her now, she's continued to sell on eBay—and has come a long way. "I talk to my PTA friends and tennis team about eBay, and they get excited to hear that I can make $300 to $400 a month on items around my house."
While the items she sells are no longer useful to her family, the extra income definitely is. Much of the money goes toward her two daughters' college education or college savings for her other two kids who are still at home. She mentions this in her listings to give buyers a reason to shop with her. Maureen enjoys connecting with her buyers on a personal level while offering them prices that usually beat what they'd find in other retail channels. "I make money, and they save money," she says.
Besides contributing to college funds, Maureen likes keeping a balance in PayPal. This way, when she purchases something on eBay, "It feels like it's free—a free treat that I earned by selling what I didn't need anymore."
eBay fits her mobile lifestyle
When she's not traveling the world as a flight attendant, Maureen's busy at home, helping her kids get where they need to go and attending their games: football, baseball, lacrosse, and wrestling. She's constantly on the go, so she uses the eBay Mobile Selling app for iPhone to list and monitor items from anywhere at any time. When she has downtime between flights and during layovers, or breaks during her kids' games, Maureen uses the eBay app to turn idle minutes into extra money.
"It just keeps getting easier to sell on eBay," Maureen says. She cites not only the eBay app but also shipping tasks like printing labels at home, automatically uploaded tracking information, and having packages picked up from her doorstep.
How she keeps it easy
Maureen has earned a reputation among her family and friends as someone who will sell anything that isn't nailed down. She's adopted techniques that let her list items easily while delivering excellent customer service—which keeps her DSRs (Detailed Seller Ratings) high. Here are some of her secrets to success:
At home, Maureen sets aside anything she might sell, but gives her family a chance to hold onto anything they're not ready to part with. After she has several items ready, she takes plenty of clear, well-lit photos of each.
She lists with the eBay catalog whenever there's a product match for her items, saving herself time populating item details. She's honest about the condition of each item, photographing and describing any flaws. She promotes the fact that what she sells comes from a smoke-free home—factors important to many buyers.
Maureen does her homework to price her items right. She researches what similar items are selling for, both on eBay and in the broader retail space. She typically prices items somewhere in the middle, but has also found that starting Auction-style listings at a low price can create bidding frenzies that drive up the final sale price. (Watch this short video on researching the marketplace.)
As soon as an item sells, she thanks the buyer and lets them know that the item will ship as soon as payment is received. She also includes a hand-written note in every package thanking them again. In her view, this personal touch not only supports her high DSRs, but also makes selling and buying on eBay uniquely rewarding.
Maureen prints shipping labels at home, and uses Express mail or USPS Priority Mail (Delivery Confirmation is now free for First-Class service for parcels when you buy postage online). It saves her time, plus tracking information is uploaded automatically—something both she and her customers appreciate.
Maureen typically uses USPS Priority or Express mail, so she rarely makes a trip to the post office, and instead schedules carrier pickups at her door.
An extra tip: Maureen invested in a good postal scale with a 50-pound capacity so she can always calculate accurate shipping costs. And she bought it on eBay!
An eBay seller since 2002, Maureen expects to continue selling even after the kids have all received college degrees. "It's fun, and it's so user-friendly, I can't think of why I'd stop."