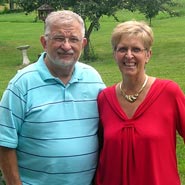 "We want people to be 100% satisfied with their purchases. We treat each and every buyer like we would like to be treated."
-Irene Huschak
We'd love to hear your story:
Get inspired & inspire others
---
More success stories
Retirees' fun hobby turns into cash for local nonprofits
---
When winter arrives, the eBay selling activity of retirees Irene and Regis Huschak, mgdj67, heats up. Their wintertime hobby has become a favorite pastime that helps raise funds for their favorite nonprofits—plus extra cash for family vacations.
Having raised four children, Irene and Regis Huschak were enjoying a retirement filled with social events and activities like gardening and traveling. But when fall turned into a frigid Pennsylvania winter, they were eager for an indoor hobby. Their oldest daughter Mary suggested they follow in her footsteps and try selling on eBay. With her help, the husband-and-wife team discovered that listing items on eBay was not only fun, but also a great way to support nonprofits they're passionate about, and help pay for family vacations.
Sales pick up steam
First they sold household items they no longer needed. When that went well, they started selling items for friends and family members. They also helped some of their favorite nonprofits sell items that had been donated, to raise cash. All of these experiences paid off—so when they saw an opportunity to help out their favorite organization, they were ready to roll.
"Regis and I are active members of the Portage Area Historical Society, which runs the Portage Station Museum," Irene explains. "Years ago, a local resident donated his personal collection of sports memorabilia to the Historical Society. Since these items had nothing to do with a train museum, he gave us permission to sell them in order to pay for a model railroad display. Now the museum has a unique 'Miniature Mainline' funded 100% by eBay sales."
The Huschaks helped another nonprofit sell a collection of hats. "Every hat was bought by the same person who outbid everyone who bid against her. The organization was delighted with the profits!"
Teamwork pays off
Even though the Huschaks are primarily winter sellers, the two have achieved eBay Top-rated seller status. When selling ramps up, Irene manages the listings, and checks and responds to buyer emails, while Regis handles preparing and shipping the packages.
"Living in central Pennsylvania, which has an older population, many of the donated items we sell are vintage and antique," says Irene. Because of this, she makes sure to describe items in detail and accepts returns. "We want people to be 100% satisfied with their purchases. We treat each and every buyer like we would like to be treated. Buyers feel secure in bidding, knowing that we're dependable with our products."
Their advice to beginners:
Set aside a little time to learn the selling process.
Look at the sold prices of items similar to those you want to sell.
Write accurate item descriptions.
Be patient when items don't sell—relist.
Respond promptly to buyer questions.
The couple also sings the praises of online label printing through eBay. At the post office, getting in line with stacks of packages that often needed metering was bad news for the people in line behind them. The couple now prints their own prepaid shipping labels. "It's one of the best things eBay offers," Regis says with relief. "Now if we can't make it to the post office on any particular day, the packages can be picked up right at the house." With the eBay label printing, eBay listings are also automatically updated, so buyers know when to expect their packages.
The extra touch goes a long way
Since many of the items the Huschaks sell are donated to benefit specific organizations, they like to let buyers know their purchases are making a difference. This creates a rewarding experience for everyone. Irene and Regis try to tell the donor what the item sold for and share any heart-warming emails they get from buyers.
"Not too long ago," recalls Irene, "a veteran's lapel pin was donated by the family of a man who had just passed away. It was purchased by a career military man who became disabled serving in Afghanistan." Irene forwarded a copy of his touching email to the family, who were delighted that the pin was so appreciated.
Another time, a piece of vintage clothing that was sold by request of the person who donated it landed a spot in a small museum in the Netherlands. Everyone was thrilled.
When summer comes
Irene and Regis have been selling on eBay for eight years now, mostly during the winter months. Even though they still take a break during the summer, they enjoy it so much that selling is creeping into other seasons of the year.
They've also started a family tradition. Throughout the year, family members give them items to sell and the couple sets aside those earnings for each person. Then, when everyone gathers in August for the family beach vacation, Irene and Regis get to hand out extra spending money. Now that's making the most of retirement—and the most of eBay.