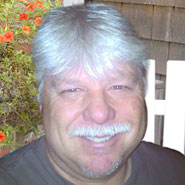 "It was very rewarding to build my car from scratch, and I wouldn't have been able to do it without eBay."
- Chris Martin
We'd love to hear your story:
Get inspired & inspire others
---
More success stories
Driven by Passion, Fueled by eBay
---
Chris Martin (user ID: hardnose99) has a "Whole Lotta Love" for Chevys. When he needed cash for his dream car project, he sold a 1977 Led Zeppelin ticket on eBay—and discovered an income stream to power his automotive obsession.
Chris Martin caught Led Zeppelin at the Oakland Coliseum in 1977. After the show, he saved the ticket for posterity.

Flash forward 32 years. Martin is living in the Sacramento area, working in sales, and rebuilding cars for fun. Then the lean economy of 2009 hit the Martin family. Family came first, but Chris also didn't want to abandon restoring his '69 Chevy Nova—a car he could "take to the track and bang some gears in, then take to a car show and not be too embarrassed." He wanted to find a way to support his family, but also finish his project.

Martin recalls, "Since I was working with virtually no budget, I needed to get financially creative. I started going through some old boxes." That's where Martin found the Led Zeppelin ticket. He listed it on eBay, and it fetched $100. Martin then sold a Marlboro fishing rod, some power-tool clocks, an old movie camera, and more unused treasures.

With that capital, the car project rolled forward. "I bought disk brakes and all kinds of stuff for the car on eBay. As soon as I'd get money in PayPal, I'd draw on it to get something else I needed." And that was only the beginning.
The Pieces Come Together
Martin did a lot of online research for the car parts he needed at prices he could afford. "People were selling collections of parts for a hundred dollars or so," he says. So he started buying them.

"I found a machine shop proprietor who was retiring and another guy with an inventory of 70s car parts from a repair shop. I would take all of the stuff and put it in my backyard shed. At night I would research the stuff I had. I'd look up each part number and figure out what car it went to. I had intake and exhaust valves, water pumps, old-fashioned headlights—a lot of miscellaneous. I used the parts I needed for my Nova, and the rest I listed on eBay."

Working a fulltime job in sales meant that researching, photographing, listing, and shipping his spare parts happened when he could fit it in; but driven by the dream of revving up that Nova, Martin made the time. "At one point, I had 40 or 50 listings going," Martin says. "I would list in the evenings and, on the weekends, ship everything that sold. Over the course of a year and a half, I made about $5,000, which is what I used to finish my Nova."

Martin loves the Nova and drives it to work every day. He also enjoys sprinting it on a local track and taking it to car shows just as he had hoped to. He even organized a car show fund-raiser at his son's school.

But a project car is never really done. "Now I want to put different sized tires on the back," Martin says. "There's always something, you know?"
The Mechanics of Listing
Martin's natural sensibility as a salesman helps him create successful listings, but he says there's really no secret to it. "I think about all the information I would want to know as a shopper, and I include that in each listing. That's the basics." But Martin goes beyond the facts and adds an emotional element to his listings to make them stand out. "I try to describe how the item will make you feel, how the buyer will enjoy their car when it's finished, thanks to the part I'm selling. Or like with the Led Zeppelin ticket: I knew somebody would feel as proud about owning it as I had. You can always give your listing some emotional appeal."

Martin also ships with care. "When I packed the ticket to send, I actually cut some foam and placed the ticket carefully in the box. When you're sending something that someone really wants, you don't just throw it in a box. You take time to present it. People really appreciate those small things. You can tell from the feedback."

Martin has the clout to talk about feedback—his is 100% positive with a score of 306. Keeping buyers happy for Martin is a matter of treating them how he would want to be treated. "It's as simple as that. Describe everything to a T, include lots of pictures so they know what they're getting, and ship in a timely manner."
How eBay Helps
Martin was a buyer on eBay before he ever sold. "I'm always looking on eBay for educational games and toys for my son. It's great for finding things that you just don't find in your own backyard. And of course I'll always use eBay to buy parts for my ongoing projects."

"As a seller, the greatest resource is completed listings," says Martin. "Before I sell anything, I always check completed listings to see where the market is and what other people have bought and sold. That also helps me decide on the listing format. If there's not a lot of the item I'm selling on eBay, then Auction-style is the way to go; but if there are a lot of them, I use Auction-style with a Buy It Now price."

For shipping, Martin says, "The best thing for me is USPS® Flat Rate boxes. I use them whenever I can. Most of the water pumps fit perfectly, and, like the ad says, 'If it fits, it ships.' So shipping is really easy."

Martin uses PayPal to receive and send payments. Having money readily available was a big help during the Nova build. "As soon as I'd get paid via PayPal, I would turn around and draw on that money to buy something else I needed for my car. It was very rewarding to build my car from scratch, and I wouldn't have been able to do it without eBay."

The future certainly holds more cars for Martin. "And I'll use eBay to fund them without a doubt," he says. He has classic Chevys in his saved searches. "Every time I log in, I see what Chevy models up to 1975 are being listed. Hopefully, I'll buy another one someday."

"My wife wants a rebuild, too," says Martin, "So I'm thinking a year or two down the road, I'm going to start all over again with a Plymouth Superbird or a Dodge Challenger R/T. She's got certain cars she's always really liked. Then there's my son. He's 10 now, but in 6 years he'll be driving. There's definitely another car project coming then."