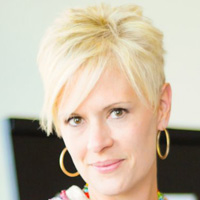 "It was much easier than I thought. The listing process is totally spelled out for you, and there's a lot of support online."
- Emily Hill
We'd love to hear your story:
Get inspired & inspire others
---
More success stories
Style-savvy mom sticks to her budget by selling on eBay
---
Mother of four and blogger extraordinaire, Emily Hill (user ID: emihill) funds her denim addiction and keeps her family on budget and in style by selling on eBay.
Emily discovered eBay over ten years ago, soon after her first child was born. One cute Halloween outfit had her hooked on buying, but when her daughter quickly outgrew everything and the reality of baby expenses kicked in, Emily decided to balance her spending budget by selling, too. "I just thought, I have all these kids' clothes piling up. I want to try to make some money." Once she signed up and got started, she was surprised by how easy the listing process turned out to be. "It was much easier than I thought. The listing process is totally spelled out for you, and there's a lot of support online." Now she sells on eBay regularly and shares her selling experiences on her popular blog is this REALLY my life?
Clearing out, cashing in
Not only does Emily's eBay selling help keep the family on budget, but with four growing kids at home, she relies on eBay to keep their closets up-to-date with the right sizes and latest styles, too. She keeps her own closet from overflowing by sticking to her "one-in-one-out rule," especially when it comes to her own fashion obsession—denim. "I like jeans a lot, so if I buy a new pair, I sell one of my older pairs. I buy and then I sell, so I can buy again! It keeps things under control, and helps me break even when it comes to the budget." She's gotten so good at this she's even posted tips for buying and selling designer denim on her blog.
In fact, Emily finds that men's, women's, and kids' clothing and baby items in good condition sell better on eBay than local classified or garage sales. "People go to the classifieds for garage-sale deals, but on eBay, people know exactly what they are looking for. They'll pay $40 or $50 for a new or gently used pair of designer jeans that you bought that didn't fit. That's why I love eBay for things like that, and there's just a wider audience." She recently proved this point again when her family held a huge garage sale. "I put aside 60 items I chose not to include in the sale because I knew I could get more money for them on eBay. I was right! I've listed 20 so far and have 40 more to go. I'm selling a new pair of Gap pants that no one would have paid more than $10 at the garage sale, but I'll probably get at least twice that on eBay."
For selling kids' clothes, Emily's strategy is to stock up and sell all at once. Her process starts at key points in the year, "when it's time to switch over the fall clothes with the summer clothes, or when we go school shopping and have an influx of new clothes." Then she makes decisions about what to sell. "I make piles—one pile of higher-end or better-condition clothing that I can put together in outfits, and one pile to be donated." When she has quite a few things collected, she spends a weekend listing them.
Mom knows best
By now Emily has a really good idea about what kinds of clothing will sell well on eBay, what's important to include in her listings, how to make sure her buyers are happy with their purchases, and where to get help if she needs it. Here are some of her tips for savvy selling:
Go for well-known brand names—"Gap, Banana Republic, all the designer brands and designer stores like Anthropologie, and designer diaper bags, do well. The eBay fashion selling guide is really helpful when it comes to what brands sell well." If you're unsure about how to price something, check out the eBay research demo or look up a similar item and view completed listings to see what it sold for.
When in doubt, include more details—"The more description the better. Include specific measurements, like the sleeve length, the inseam on jeans, or if shoes are a size 9 but you know they fit like an 8. Mention any flaws, even if they're barely noticeable, and post a photo of the flaw. You don't want someone to buy it, get it, and say, 'Wait a minute. I didn't see this in the picture.' Even if it's something you think no one is going to care about, I say put it in there. Anything you can do to make buyers more confident about what you're selling is worth the extra minute or two." Watch this 2 minute video to learn more about specifying item condition.
Make a lot more by selling by the lot—"An off-brand boy's T-shirt might sell for just 99 cents on its own, but you could get $15 or $20 by selling a collection of T-shirts—by selling multiple similar items as a lot. I did it the wrong way first by going to one of those local kid-to-kid places and received practically nothing for them. I kicked myself for doing that—I could have made a lot more on eBay."
Ship it USPS Priority Flat Rate—"I prefer that for selling clothes, because you can get most everything into a flat-rate box or envelope. As long as I can get it in there, I know the shipping cost is going to be $4.80 no matter what the weight, and the envelopes are free." Plus, if you choose a USPS service, you can pay for discounted postage and print your shipping label at home. Plus, tracking information is automatically provided to you and your buyer.
Help is easy to find—"I've always stuck with eBay's help forums or tutorials, but the Seller Information Center has a lot of great information, too. If you have specific questions as you're listing, there are helpful little pop-up boxes along the way—you can usually find the answer you're looking for by clicking the question mark icon. They really walk you through the process, and they've made the listing process simple."
Spreading the word
Emily continues to focus on her blogging, and she's always looking for ways to share her knowledge of selling on eBay with other women and mothers like her. "I'm going to put a widget on my blog site that takes readers to my eBay listings. And I recently wrote a post with a video I made about de-cluttering my closet with some examples of things I found that would sell well on eBay." She'll soon get even more ideas about what she has in her house to sell as she explores the new Selling Inspiration House on eBay. For now, Emily is busy listing and selling the remaining 40 items she set aside from her family's recent garage sale, and she hopes to share a positive selling story about it with her readers soon.