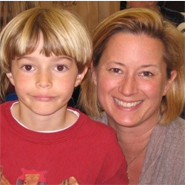 "I paid for my son's new room by clearing out my closet. It was the easiest $1,000 I ever made!"
- Daphne Church
We'd love to hear your story:
Get inspired & inspire others
---
More success stories
Closet cleanout funds home decorating project
An unexpected move motivated Daphne Church to clear out her closet and cash in on eBay. Pocketing more than $1,000 in less than two weeks, dancing_daphodil used her profits to make moving easier on her young son, transforming his new room into the surf-themed hangout of his dreams.
Avid eBay buyer Daphne Church wears her red eBay feedback star with pride. But it wasn't until she faced moving for the second time in two years that the single mom decided to get serious about selling.

"When I found out our landlord was selling our house, I wanted to do something special to make it up to my son Nicholas," she explains. "I was able to turn a bad situation into a great one by selling everything we didn't want to bring to our new place. It was therapeutic to purge and I had an instant source of funds to decorate my son's new room."

Daphne was amazed at all the stuff she found to sell, and a lot of it went for top dollar. "You forget what you have packed away in the closet, garage, and those drawers you only open once a year. I found a Hermes scarf I'd never worn. It was a gift that wasn't really my style and I got $200 for it the day it was listed. Some of my son's Pixar and Disney movies went for $25 each. I even had a buyer from Canada beg me to expand my shipping to international so she could get two Gap tunics I'd bought two years ago. All in all, we made more than $1,000 in less than two weeks."


Easier than you think
Having only dabbled in selling before, Daphne was grateful for the eBay features that made it possible to fit selling into her packed schedule. "I wasn't sure I'd be able to work full time, be a good mom, move, and sell on eBay," she admits. "eBay made the balancing act easy."


She has this advice for anyone who wants to save time while making extra money selling on the side.
If you have a smartphone, see if there's an app. The eBay iPhone app is great for things that don't need long descriptions or multiple pictures. You can also check in on your listings and see what's sold no matter where you are.
Use the catalog lookup feature for things like movies and books. It almost creates the listing for you.
Order those free eBay/USPS Flat Rate Priority Mail boxes. The Post Office will even deliver the boxes to you for free.
Pay for postage and print shipping labels in My eBay. It uploads tracking numbers so buyers know their stuff is on the way. I don't have to think about it and neither do they.
Creating surf central
With proceeds tucked away in her PayPal account, Daphne knew it was time to treat her son to an eBay shopping spree. "The best part of this whole process was being able to let Nicholas pick out exactly what he wanted for his new room. He spent the summer at surf camp and we were able to find a large area rug and towels with surf boards on them, and wall hooks and ocean-blue blankets for his bed. My decorating dollar went so much further on eBay than it would have anywhere else. I even picked up new faux-fur blankets and pillows for our deck. Nicholas was thrilled, and I didn't have to spend a dime."


Inspiring the next generation
Seeing the payoff of selling has also rubbed off on Daphne's son. "Nicholas totally caught the eBay bug. He's coming to me with ideas on what we can sell next so I can buy him the toys he wants," she laughs. "He has a huge collection of Star Wars and Clone Wars LEGOs, but he's now graduated to Castle and Kingdom sets. They're more than $100 each and he knows I'm not just going to go out and buy them."


She's fast to use his enthusiasm as a learning opportunity. "We plan to spend Saturday mornings listing what he doesn't need while we watch cartoons and using any profits to buy knights and dragons on eBay. I love that he's learning about wise spending and how computers work. Even better, we get to spend quality time together. That's what really matters."