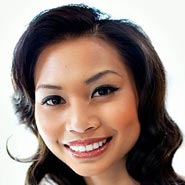 "I plan to keep selling. Maybe I'll even use some of the sweepstakes money to buy things to resell on eBay."
- Camille Marcojos
We'd love to hear your story:
Get inspired & inspire others
---
More success stories
4-Inch Heels Turn Into Five Thousand Bucks
---
For Camille Marcojos (user ID: dabbey.m), selling a $50 pair of shoes for $80 was a pleasant surprise that turned into a windfall: She won $5,000 in eBay's List to Win Sweepstakes.
Full-time student Camille Marcojos majors in biology and interns at the Latino Family Literacy Project, a program that helps Latino parents advance their children's language skills. She's also a collector: "I love shoes, and my collection is growing all the time." That's what led her to eBay. She's been an active eBay buyer for some time, and just recently tried her hand at selling.
"Since 2008, I've used eBay mainly for buying shoes, plus clothes, books for school, and appliances," says Marcojos. "Any time I searched the Internet for something I wanted, I'd start with eBay to see if I could get a good deal."
Her passion for buying shoes soon led her to selling them on eBay, too. She'd only ever listed a few items, so when she had a pair of shoes that didn't fit any more, she decided to list them. "They were collecting dust in the closet, so instead of throwing them out, I thought maybe I could try selling them on eBay."
Taking the Prize
When Camille decided to sell her shoes, she tapped in to the many available resources on eBay to create a successful listing on the first try. "I went to the Seller Information Center on eBay and saw everything I needed to know about selling, all laid out for me. It was a good experience."
Listing a pair of black, 4-inch Zara high heels in the month of March earned Camille an entry into eBay's April Newsletter List to Win Sweepstakes. When her first eBay listing ended, she had made $80 on the $50 pair of shoes. And when the sweepstakes ended, eBay sent her a very interesting email.
"I won the prize! I didn't think it was real. I've never won anything so big. I called eBay later in the day and said, 'Is this real?' And they told me, 'It's 100% real.'"
Now $5,000 richer, Camille already has ideas for how she'll spend her winnings. "The first thing I want to do with the money is take a trip somewhere and relax for a while—New York or Washington, D.C., or to the Philippines. I'm Filipino, and I haven't been back in years. I'd like to visit my family there."
But outside of her trip, Camille plans to continue selling on eBay. "I'd like to open an eBay Store and expand into vintage clothing and jewelry. Maybe I'll even use some of the sweepstakes money to buy things to resell on eBay."
Stepping Up to Selling
"The new listing form is so simple," says Camille. "It lets you start from a template and gives you tips along the way. You just put in your title, describe your item, mark how you want to ship the item, and so on. I listed the shoes, they sold, and I shipped them—just like that."
"I'm trying to get more into international selling," she says. "I'm new to that, but what's great about eBay is that they have a lot of resources for sellers. eBay lays out everything you need to know: shipping, pricing, how to list. You can go to the Seller Information Center for basics and use the Answer Center to ask other eBay members for tips about international selling—or anything else. The eBay community gave me quick and useful responses to my questions."
Camille knows that communication between buyer and seller is an important part of a successful transaction. When I sell, I want to make sure everything goes smoothly, so I let my buyers know when they win and when I ship their items. And I ask if they have any questions. I think communication is key."
For shipping, Camille uses USPS® Flat Rate boxes. "You know exactly how much to charge for shipping, shoe boxes fit inside them perfectly, and the boxes are free—I pick them up at the Post Office. I'm telling you, selling on eBay is really simple. It's fun, too," says Camille. "I'd say it's becoming a hobby."
Camille encourages other eBay buyers to try selling. "I'm sure there are others in the same boat as I was. I didn't think I could sell on eBay. But with all the resources at your fingertips, people should know how easy and rewarding it is to sell on eBay."