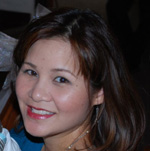 "eBay is my long-term professional endeavor. I'm doing what I love."
- Sonya Han
We'd love to hear your story:
Get inspired & inspire others
---
More success stories
Layoff turns into life-changing opportunity
When the economic downturn hit Sonya Han, the laid-off senior finance analyst decided to make a longtime dream come true by opening Angelic Treasures, selling stuffed animals, perfumes, clothing, accessories, and collectibles on eBay.
Who doesn't have dreams of working from home, being closer to the kids and skipping day care? Sonya Han,angelbebe75 did, and thanks to the flexibility she gets from selling on eBay, she's making it happen, big-time. "I've been doing about $2,500 a month in sales, with good profit margins. I love setting my own hours. I go over to my parents 3 days a week and work on my eBay sales while they watch the kids (her new baby and 23-month-old son). I can work anywhere—all I need is a computer and an Internet connection."
If life gives you lemons, make a lemonade stand
For Sonya, being laid off was a blessing in disguise. Once she lost her senior finance job, she didn't have to go off to work anymore, and that meant she was free to work for herself. "I started selling actively on eBay about a year ago, after I was laid off," Sonya says. "I had sold a few items off and on since 2002, and always wanted to start an eBay Store. I had accumulated a lot of stuff over the years. It was time to clean house. The combination of free time, items to sell, and need for income inspired me to finally start selling as a business. I enjoy running my eBay business more than my previous job, and I love that I can do it while staying home with the kids."


Bringing joy to buyers, one sale at a time
Sonya's eBay Store Angelic Treasures offers a variety of products, but what she enjoys selling most are the things that really set her shop apart—the sentimental items, the ones that bring joy to her buyers. "It's a big part of why I love selling on eBay. It gives me a great sense of meaning and satisfaction in what I do." And Sonya has the stories to prove it.

"I look for vintage stuffed animals that may be hard to find. When kids lose toys they get so upset, and people look for replacements on eBay. One buyer emailed me about a bear for her grandson. He had lost his favorite stuffed animal at the airport and was very upset. It was a promotional bear from the Cheesecake Factory. Luckily, I had one in my eBay Store. I was able to upgrade the shipping and get it delivered before the boy had to leave his grandmother's house. My buyer wrote that he now goes to bed happy because he has the bear to cuddle with. It really made my day!"
Savvy sourcing equals higher profits
Not everyone can say that they have fun working, but Sonya really enjoys the sourcing and selling process. "I get a big thrill when I buy something for a low price and sell for a higher price. I've really developed my negotiating skills through buying merchandise. I went to go check out a collection of collectible bears, and the woman wanted around $40 each. I told her I didn't want to pay more than $5 each. She said OK, if you take them all. I sold each bear for between $20 and $40 in my eBay Store."
Love what you do and it'll love you back
Asked what her long-term plans and goals are, Sonya shares, "I do plan on going back to work part-time, but that doesn't mean I'll stop selling. In fact, I'm aiming to increase my sales volume and double or triple my profits. eBay is my long-term professional endeavor. I'm doing what I love."
Back to newsletter