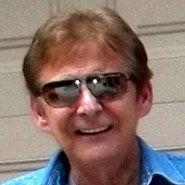 "I wasn't really motivated by money in the beginning—it was just a hobby; something to do. Then I realized there was a market for used bike parts, and I've made a few thousand dollars. It's exciting and I hope to expand next year."
-Bill Morris
We'd love to hear your story:
Get inspired & inspire others
---
More success stories
Retired business owner funds his passion for restoring motorcycles by selling on eBay.
---
Golf, travel, and yard work weren't enough to keep Michigan-area retiree Bill Morris (userID: 415wmorris) satisfied. After 15 years of retirement, he was looking for other ways to spend his time—and found it on eBay. Morris now sells on eBay to fund his new hobby: motorcycle restoration.
Bill Morris' eBay selling experience started with a small collection of gold jewelry—what he refers to as his "Mr. T Starter Kit," which he bought in the 70s. It had been collecting dust for years, so when gold prices went up he decided to cash it in. "I sold it when gold was $1,000 an ounce and made a couple grand." The experience fuelled Bill's interest in selling on eBay, but he had no more jewelry to sell. Instead, Bill found his sweet spot with eBay Motors: he sold a used Lamborghini Diablo on eBay in 6 days for a $3,000 profit!
A long-time car enthusiast, Bill has owned and worked on several muscle cars over the years—from Corvettes and race cars he used to drive at the drag strip, to a '34 Ford Street Rod Kit Car that he and his brother-in-law spent a year building. Now Bill focuses on motorcycles. "They're much easier to work on and customize than automobiles, and at 68 years old it's a perfect fit for me."
It made perfect sense for Bill to put his eBay Motors experience to use. "I bought a used motorcycle on eBay, and there were parts on the bike that I didn't want. I thought, 'why throw them away? I'll try to recycle them.' I put a few of them on eBay and they sold almost immediately. I realized then there was a market for used motorcycle parts, and went from there." Now he has a great system that supports his hobby: the parts he doesn't need, he sells on eBay, then he uses the funds to buy the parts he wants. His current project is a Yamaha Virago.
Ramp-up was quick with eBay
When it came to learning how to sell on eBay, Bill attests that he found everything he needed to know on the eBay site. "I read the tutorials and it was quite simple. When a question pops up, I can usually find the information I need. eBay has come a long way from where it started—I'm quite happy with its capabilities, and the thrill of selling is rewarding—it's fun to watch the selling price tick up."
Being an avid eBay buyer has helped Bill price his items successfully. "I shop on eBay and see what everyone else is asking. People in the aftermarket business usually price their parts the highest, while guys who just want to sell to clean out their garages price the lowest. So I price my items between those highs and lows. It seems to be working—I haven't had any problems and my parts sell well."
Listing with eBay was easy
In addition to a good description, Bill says that the most important information to include in a parts listing is model compatibility. To make sure buyers are able to find the parts he's selling, Bill uses the eBay catalog—eBay's library of products—and parts compatibility when he creates his listings. "I select 'motorcycle,' and eBay's catalog automatically asks me for the model and the year and so on. It gets down to the specifics, so you know you're in the right category." There's even a handy checklist for selling with eBay Motors and an easy-to-follow guide to selling that walks you through the process.
Besides describing the condition of the part he's selling, Bill usually includes a minimum of 3 pictures in his listings, sometimes 5, depending on the complexity of the part. In Motors, the first 4 are free. He's also very conscious about the quality of the photos he includes. "In automotive, you'll see pictures of parts in a garage full of dirt and rags, and you see all that clutter in the background. It makes you wonder about the quality of the part. I like to clean up the part and take it outside where there's natural light and a neutral background. That way the person can focus on the part and not what's around it." [Editor's note: find more easy tips on photos in our 3-minute, photo layout and lighting video.]
Free shipping and quick handling: positively the way to go
"I think you get more attention when you offer free shipping," says Bill. He's right—some buyers will only consider items with free shipping, or a low-cost shipping option. Bill first estimates the shipping cost. "The shipping calculator on eBay gives me a good ballpark figure, which helps me determine a sale price." To make shipping even easier, Bill buys postage and uses free label printing through PayPal. "My wife packs everything up and I print the shipping labels up prior to taking them to the Post Office, so all I have to do is drop them off. " When you print shipping labels for USPS PriorityTM or Express MailTM you can also schedule a free carrier pick up and skip the trip to the Post Office.
Revving up for future sales
For Bill, selling on eBay is really about his passion for his motorcycle restoration hobby. That said, he has made good money along the way, and a big part of that is timing. By understanding the seasonal trends for motorcycles where he lives, he knows that they sell faster and at a higher price in the spring and summer, while the prices are right to buy in the fall and winter. With that in mind, Bill is now in the process of buying two more used Viragos. "I've always liked the styling of the Yamaha 750 or 1100 Virago. I guess I'm old school but they are well-built and easy to work on. I'm going to restore them this winter, and plan to sell the parts on eBay. Come spring, when I can increase my profit, I'll sell the finished bikes on eBay too."