Your new profile gives you a central place on eBay to showcase your business and expertise, engage with your buyers, and share your collections. You can also upload images that reflect you and/or your brand, highlight offers, or convey other important information.
Viewable by all other eBay members, your eBay profile is linked from your eBay user ID on all your item pages and from your followers' eBay profiles. More buyers than ever will be viewing it, so make sure you take advantage of all the available features to best showcase your business and brand: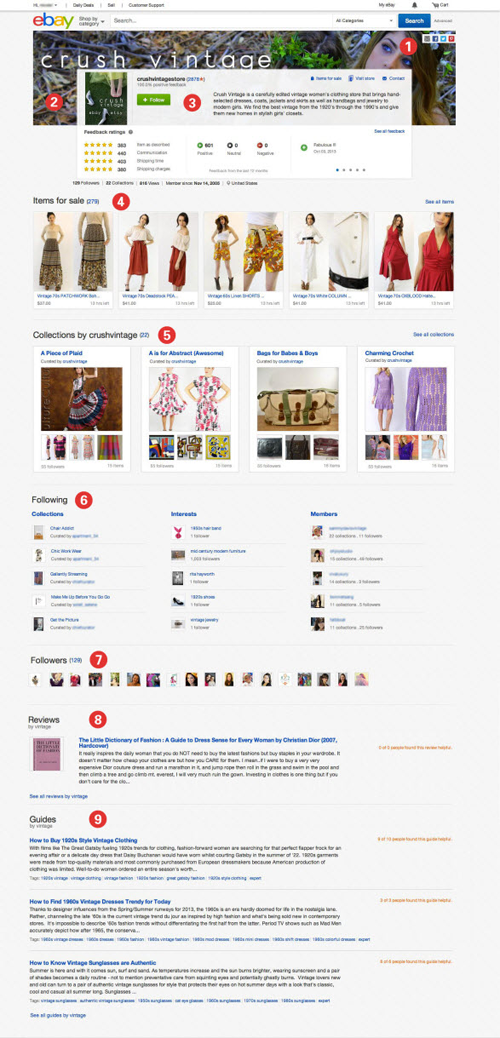 Note: The eBay profile pictured above is a composite of several different profiles.
To build a compelling, engaging, and informative eBay profile, follow these top tips:
Upload compelling, high-quality profile and cover images
Give members more reasons to follow you: write an informative blurb that highlights your expertise and your business. Be sure to use spell check!
Create great collections, as they will be showcased on your profile
Follow other eBay members, collections, and interests so users can see what interests you have in common
Do I have an eBay profile?
Yes, every eBay member has an eBay profile. You can access your profile either by going to ebay.com/usr/eBayUSERID, or by first clicking on your user name that appears in the top left-hand corner of your home page, then clicking on your user ID that appears in the first section of the drop down menu.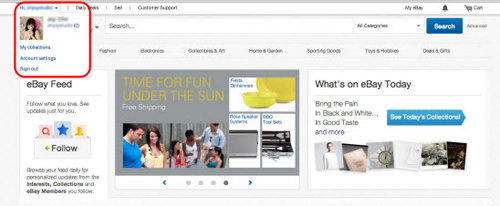 Note that until you edit your profile, it will display the default profile image and cover photo.
How do I customize and edit my eBay profile?
We encourage you to customize your profile by adding your profile image, cover image and a short description of who you are and what interests you. Please remember that your profile is visible to all eBay members who visit your profile, so be smart about the information you include as it will be publicly available.
Here's how to customize your profile:
1. Access your profile by going to ebay.com/usr/eBayUSERID.
2. To upload a photo or add information about yourself and what you're passionate about, click the pen icon in the appropriate area, as shown below:


3. To upload a cover image, click 'Add cover'.

Note: You can reposition your photo within the space provided.
4. Once you are happy with how your profile looks, click the 'Done editing' button.

Can I customize my new profile with HTML?
No, the new profiles do not allow for HTML customization.
Can I upload any kind of imagery I want to my profile?
Yes, as long as the imagery complies with eBay's policy on
images and text
. We encourage you to personalize your profile with images that express who you are or your unique brand. Don't forget that the photos and information you include in your profile will be visible by all other eBay members who visit your profile.
What size does my profile and cover image have to be?
Your profile image dimensions should be 150 pixels wide x 150 pixels tall and your cover image should be 1200 pixels wide x 270 pixels tall. Each picture file can be as large as 5MB. Note that you can upload an image with larger dimensions and it will be cropped automatically. You can move the image within the space provided to your liking.
Does this new profile replace my MyWorld profile?
Yes, this new profile has replaced your MyWorld profile. All the important information from your MyWorld page has been moved over to the new profile page. The new profile doesn't include some MyWorld features such as Business Info, Guestbook, and most of Bio, but you can easily enter this information in the 'What the world should know about me' section of your new profile.
Does this new profile replace my About Me page?
Yes, this new profile will replace your About Me page. All About Me links will be directed to your profile page.
I had customized my MyWorld page. What happens if I don't customize my profile?
As part of the rollout of the new profile pages, we have made every effort to move information over from your MyWorld profile to your new profile (with a few exceptions). There is no action required on your part—as this information was moved over to your profile page automatically—but we do recommend you take a look at your new profile to make sure no updates are needed.
Why wasn't all my MyWorld information moved to my new profile?
The new profile is based on our research about what's most important to buyers.
Where did the MyWorld guestbook feature go?
Our research showed that the guestbook feature was not often used by shoppers so it was replaced with other features of value to both buyers and sellers.
Where does a member's location appear on the new profile page?
A member's location now appears under the User Feedback information.
I'm concerned about my privacy. What if I don't want buyers to know my location?
Only your country will be displayed on your profile page. Note that item locations still appear on your listings pages.
What should I do if I don't want some of the things I follow to appear in my profile?
What if I don't want a certain user to follow me? Can I block them from following me or how do I hide this from showing on my profile?