The next time you list an item, choose "Returns accepted" or "Returns not accepted" directly in your listing—specify whether you accept returns and if so, under what condition.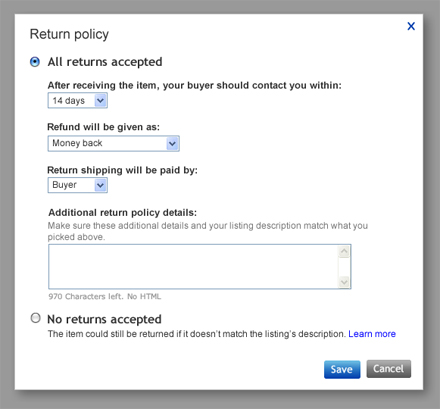 Do I have to accept returns?
No, but you do have to specify a return policy. You may specify that you do not accept returns by setting your policy to "No returns accepted." If you accept returns, you're required to accept returns for any reason, including when buyers change their minds.
We encourage you to accept returns to attract more buyers and increase the likelihood of selling your items. All sellers should familiarize themselves with the terms of the
eBay Buyer Protection Policy
, which offers buyers certain protections if an item is not as described or not received. There may be instances where eBay instructs a buyer to return an item to you.
What elements of my return policy will I need to specify?
If you choose to accept returns, you'll need to specify the time period within which the item may be returned, how you'll give the refund, and who will pay the return shipping cost. Beginning the first week of May, sellers who accept returns will be required to have a minimum 14-day return policy and offer a money-back option.
What happens if I decide not to accept returns?
You may decide not to accept returns by setting your policy to "No returns accepted". Regardless of your return policy, all sellers must adhere to
eBay's policy for sellers
, which include accepting a returned item if it doesn't match the listing's description.
What happens if the information in my Additional return policy details doesn't match the standardized values I've selected for my return policy?
If a buyer files an eBay Buyer Protection case and you have conflicting return policy information in the listing, the outcome will be determined by whatever time frame is longer. Listings with conflicting information are in violation of the eBay
Selling Practices Policy
and may be subject to removal.
Am I required to pay for return shipping?
You can decide whether you or the buyer will pay for return shipping. Be sure to specify
shipping costs
and related return service charges, if any, in your listings. Consider paying for return shipping when your buyer feels that the item is different from what was described in the listing.
Can I charge a restocking fee?
Yes, you are allowed to charge a
restocking fee
. However, keep in mind that a high restocking fee may discourage buyers from purchasing your item. If you charge a restocking fee, we recommend that it's a reasonable amount and that you include specifics in the return policy details.
If a buyer wants to return an item, can I ask them to send it back before issuing a refund?
Yes. In fact, it's a best practice to wait until items are
returned to you
and inspect them before issuing a refund. Be sure to mention this in the listing so buyers understand in advance if they will be responsible for return shipping and the expected condition of a returned item. If you choose to pay return shipping, you can add details about how and when you'll do so by selecting "seller" in the Return Policy "change return policy" menu and providing details in the text box such as, "buyer will pay for return and will be reimbursed by seller."