Description
Second Chance Offers can be made to non-winning bidders at the end of an auction if:
Your item didn't sell because the reserve price wasn't met.
You have duplicate items for sale.
The winning bidder didn't pay you.
However, you should always check to see if these emails are legitimate by doing the following:
Click My eBay at the top of any page. You may have to sign in.
Select the Messages tab.
Check in the Messages section. If the Second Chance Offer is real, the message will have a blue background and a subject starting with "Second Chance Offer for Item…"
If you don't see the message there, it's probably fake. We recommend you forward the email directly to spoof@ebay.com.
Example A
Email addresses claiming to be from eBay such as "aw-confirm@ebay.com", "secondchanceoffer@buyerprotection-e-bay.com" or "checkout@ebay-motors.com" are fraudulent.  Remember to check your My Messages inbox in My eBay any time you get an email from eBay to ensure that it is legitimate.
Example B
The subject line of this email is misleading. eBay does not send invoices to buyers for vehicle purchases. eBay does not act as an intermediary in any vehicle transactions and buyers should be aware of invoices that claim to come from eBay or eBay representatives.

Example C
Please be aware that the "easy steps" included in fraudulent emails often contain false information. For example, eBay never acts an intermediary for buyers and sellers during the payment process. Suggestions that a seller will notify eBay regarding the payment process or that eBay might act as an agent or escrow service are inaccurate. eBay does provide Vehicle Purchase Protection for vehicles purchased on the eBay site and appear in the "Won" section of My eBay, but the program does not guarantee any transactions, especially if they occur outside of eBay.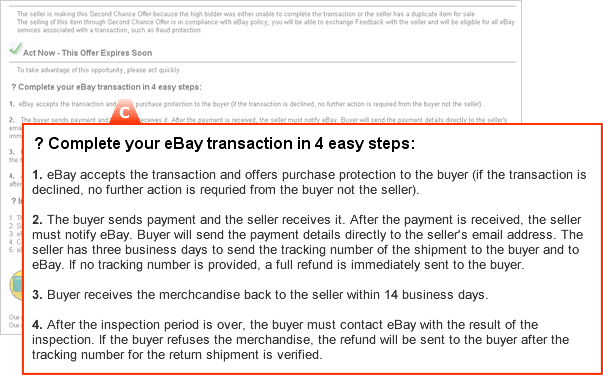 Example E
Suggesting purchase protection as a benefit of quick payment is most likely a scam, especially if the seller claims that any other method of payment would void the transaction.