| | |
| --- | --- |
| Search Engine Optimization - The Basics | |


All sellers should take advantage of every search engine optimization opportunity. Fcus on web pages and tools that allow you to provide content!

Listings
About Me
Reviews & Guides
Catalogs

Listings


Listing titles and descriptions provide valuable real estate for generating natural search-friendly content, and are critical to how search engines rank your page.
Listing Title: Include 1-3 important keywords or keyword phrases in your listing title. This is not only a great SEO practice, but it also helps buyers find your products.
Listing Description: Include at least 200 words of visible copy in your listing description, with the most important keyword phrases mentioned at the beginning and end. Remember to employ other content best practices, such as the frequent use of keywords where relevant and formatting (e.g., bolding, using font size on important titles and keywords)
About Me


Use the About Me page to provide visible content about your business and products. Your About Me page is also a great place to include text links to your Store, search results and specific promotions. When using images, remember to include Alt Tags.


Reviews & Guides


Use eBay's Reviews & Guides, and write a product review or a guide on topics related to your business or products. Sellers should link to their store or search results from guides to bring even more buyers.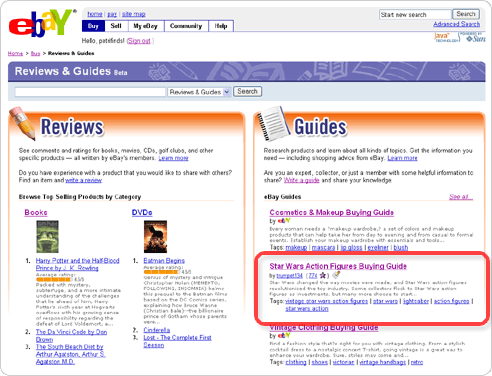 Catalogs


Use catalogs whenever possible and add custom descriptions to supplement available catalog content. A custom product description is important in making your content unique.