Ask Griff
Jim Griffith, also known as "Griff", is one of eBay's most beloved staff members. Griff has also authored the eBay "How to" guide, The Official eBay Bible, and is the host of eBay Radio which airs every Tuesday at 11:00 PT. Each month, Griff will take some of your questions about eBay, and answer them in his own inimitable style.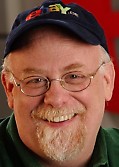 Jim 'Griff' Griffith
Education Specialist Program
by Jim 'Griff' Griffith
eBay Staff Member
Q: I live in Encino, California and I am wondering if you know of anyone who can come to my house and show me how to create a listing and place it on eBay. In fact, I would love it if you could come yourself. I could cook a dinner or something.
A: As difficult as it is for me to turn down a free meal, I must respectfully decline your generous offer. However, you might find a tutor or coach through our new eBay Education Specialist program. There are hundreds of eBay Education Specialists across the country, many of whom will provide one-on-one tutoring for a new eBay buyer or seller. To locate any Education Specialists in your neighborhood:
Go to www.ebay.com/university
Click the link there for "Education Specialist Program." On the following page, scroll down to the link for "Click here to find a Specialist in your area."
Click the "Find an Instructor" link and follow the instructions from there.
Regards,
Griff