A Match Made on eBay--
A Wedding Story
by Zigmund
eBay Staff Member
Since the very beginning of eBay, the boards have been a place where members can come together for help and social interaction. For many members, the boards are like "the office," a place where they can check in first thing in the morning -- and periodically through out the day -- to ask questions, offer advice, joke, and just unwind. Through the course of this board interaction, many real, lasting friendships form and are nurtured every day.
Sometimes these online friendships can develop offline, too. This is the heart-warming story of how the eBay boards brought two people together in a very special way.
---
It was 2001, and Brad (who lives in Illinois and was known on eBay as trimmer_brad) had only been on eBay for a few days before he discovered the Bidding discussion board. At first he didn't know enough about the site to properly answer other members' questions, but he quickly made new friends on the board and began spending time chatting about a range of subjects with them daily.
Maggy, whose User ID was ms_z, was a relative newcomer to the Bidding board herself in 2001. She enjoyed the other regular members there and spent her time answering whatever questions she could. She had crossed paths on the board with trimmer_brad now and again, but had never thought much of it.
Then one day she was making jokes on the board with another frequent poster. Brad followed up with a post saying that her comment had made him laugh out loud. This connection led to a brief chat between the two. And as it turns out, that chat set the wheels in motion for a friendship to develop.
"Quite honestly, it did make an impression on me," Maggy said. "I remember thinking that he seemed like such a nice person…it was almost an immediate connection on my part."
Soon afterwards, she started going out of her way to be around where he happened to be on the threads. "I suppose I was trying to make sure that he noticed me, or at least knew who I was." The strategy was working, as Brad had taken note of her fun personality. "I enjoy joking around, and Maggy seemed to have a very compatible sense of humor with my own."
Even though the relationship beginning to develop, ironically it was an unpleasant encounter on the boards that brought them closer together. "Finally one night on the board, after I'd had a bad day, another poster made a comment about an About Me page that I'd created," said Maggy. "I disliked what they had to say, told them so, and then left for the evening."
Brad, fearing that Maggy meant she was leaving the board entirely, quickly emailed her. "Her page told a little about herself and included a lovely picture of her," Brad explained. "Another poster told her that he thought she gave out too much information about herself. This seemed to upset her as she quickly said 'goodbye' and yanked down the page. I wrote her an email explaining that I didn't think she had provided too much, and told her I would hate to see her leave the board. She wrote me back the next day, and I remember it was a very kind email. I began to realize what a wonderful person she was."
The two board friends began to correspond regularly via email. After several months of emailing each other, finally one day Brad decided it would be much easier to speak on the phone: "The plan was to talk for 10 minutes, then get back on the computer (to chat via Instant Messenger). Ten minutes ended up being three hours!"
The relationship was now beginning to blossom, and as time went on they would regularly talk on the phone for hours. "He made me laugh! He was such an amazingly kind man, and we had so much in common. It felt like I had known him for many years," Maggy said.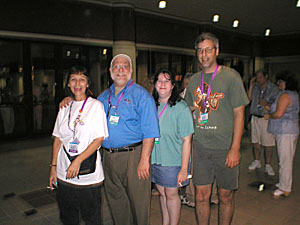 Both Brad and Maggy say that they knew that they had something special. "I never felt awkward talking with her. I guess that was one of the many things that attracted me to her," Brad said.
With everything going so smoothly, it was time for them to meet in person.
They decided to have Maggy come out to Illinois for 10 days right after Christmas. "We got to a point in the relationship where we needed to find out whether what we felt for each other was able to be sustained in a real-life situation," she said. On December 26th, 2002, she hopped in the car.

"After driving 13 hours straight through, I pulled into his driveway. I can still remember seeing his face for the first time, and just being so happy to be there."
Brad, too, was relieved, as he was a little unsure about her taking such a long trip by herself. "I was as nervous about her driving 13 hours as I was about meeting her!" But all those feelings vanished when he opened her car door. "I opened the door of her car, saw her face in person for the first time, and immediately knew she was the one."
It got even better as Maggy walked into the house. "Inside were a dozen roses and a balloon, plus a hot bubble bath and a
pizza -- and Christmas gifts!"
Ten days later when it was time for Maggy to return back to Pennsylvania, they made plans for the future. "I can remember crying by my car when I was leaving, and he said to me, 'your job is to go back home, put in your notice at work, and start packing.'"
It had been a memorable weekend: They had made a seamless transition from a board relationship to a personal one, and they were now talking about a more permanent relationship and a future together.
Soon the couple started searching for engagement rings. For Maggy and Brad who had met on the Bidding board, eBay was the most natural place for them to find the rings of their dreams. While on the phone with each other, they would sift through hundreds of listings, sending the links back and forth through Instant Messenger.
One ring kept popping up over and over.
"Maggy had shown me a ring she liked when we first started searching, and through the numerous auctions we looked at, she seemed to always go back to that one ring." Seeing that the listing was about to end, Brad seized his chance and got on the phone.
"He said to me 'So you want to get married?' I said, 'Yes, I would love to.'" At that moment, an Instant Message box popped up with another link. She clicked, and up came the listing for the ring she had liked all along -- with Brad as the winning bidder. "I was so shocked!" she said.
Thinking back to events on that special night in 2003, Brad said, "I guess I probably should have kept it as a surprise, but I've never been very good about keeping things from her. The seller was wonderful, had the ring sized and shipped, and within four days I had received it. That allowed me to bring the ring with me when I flew out to Pennsylvania to help move Maggy back to Illinois."
Now officially engaged, Brad and Maggy went back to the Bidding board to start a thread about their news to share with their other friends. "We thanked the people who had helped us along, including the poster that had criticized the About Me page and had been the original reason we had started emailing each other!"
As for the wedding itself, this happy couple continues to make unconventional choices.
"I wasn't interested in planning a wedding," said Maggy, "so we had planned on being married at the local Justice of the Peace." But a wedding is a special opportunity to celebrate with friends. For this couple who met three years ago on the eBay boards, what could be a better place to get married and celebrate surrounded by friends than eBay Live!?
"We thought getting married at eBay Live! would be a fun thing to do," she said. "Our closest friends will be there - they are people we met originally on eBay."
And so, several years after first meeting on the Bidding discussion board, Brad and Maggy will tie the knot at eBay Live! 2004 in New Orleans. (On behalf of eBay, as well as Brad and Maggie, we hope our readers will help us celebrate this wedding at eBay Live! 2004 in the Pink's Lounge.)
Brad, now long-time member of the Bidding board, says his motto is "you really can find anything on eBay." Having found his fianceé Maggy on eBay, he discovered just how true that motto really is.
---
For more information on this year's eBay Live! in New Orleans, where Brad and Maggy's wedding will be a featured event, please view our informational page http://www.ebay.com/ebaylive/, or visit the eBay Live! discussion board.