eBay Staff Spotlight
The eBay office is full of fun, interesting people who love eBay and work hard every day to help create the best online marketplace in the world. Each month, we'll introduce you to a new staff member – what they do, what they collect and who they are.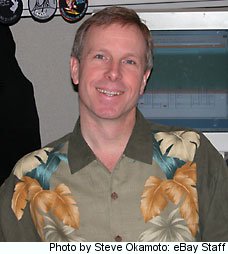 In the Spotlight: Randy Wigginton
by Jenna Jayroe
eBay Staff Member
Randy Wigginton found his calling in the field of computer technology - and his career path - early in life.
At the age of fifteen, Wigginton's interest in computers led him to a computer club - one of the only ways to connect with other computer lovers in the age before the Internet and online communities. However, Wigginton was not yet able to drive.
"Since I couldn't drive, I couldn't get there," he explains. "So, I caught a ride with a really cool guy named Steve Wozniak."
Wozniak, of course, went on to found Apple Computers, and Wigginton became Apple's first programmer in 1976.
He still couldn't drive.
After six years at Apple, during which he was responsible for much of Apple's early software, and six more years running his own business where he created MacWrite, Wigginton decided it was time for a change.
"I started buying and selling on eBay in 1997," Wigginton explains. "The funny thing was, I remember noticing the company then when it was young and thinking to myself 'I'd really like to work there'."
A year and a half ago, Wigginton made that wish a reality, joining the company's Product Development group.
Wigginton is part of a special group within the Product Development organization called "SWAT". The "SWAT Team" is a group of dedicated programmers and engineers that is focused on identifying and resolving issues that are happening on the site in real time.
"We have a lot of tools that help us evaluate what's going on during a crisis," he explains. "From those, we try to give advice as to how to fix the issue as quickly as possible. We're also available to help resolve it.
"Ever seen an old western - where all of a sudden the cavalry rides in? That's what we do."
With all of his experience in the computer industry, Wigginton says that working at eBay affords him opportunities he could get nowhere else.
"It's new and different every day," he says. "I get to work on a lot of things I'd never get to work on outside eBay. It's the coolest place there is right now."
When not assisting in crisis management, Wigginton spends his days identifying issues that affect the users and helping to resolve them.
"We do read the boards," he says, referring to eBay's Discussion and Help Boards. "They help us identify the things that are inconveniencing our members on the site. We're there to try and fix those things."
Wigginton says that his single biggest reason for working at eBay is the opportunity it affords him to help others.
"What I most like to do is help people. I've now found a way to help literally millions of people."