Following on eBay: Overview
New from eBay. Powerful tools to help you market—and connect—in new ways.
About Following on eBay
Today's online buyers want to do more than simply make a purchase—they seek an inspired, engaging, interactive experience that they can tailor to their personal interests. And more and more buyers are looking online to get ideas, advice, and recommendations from sources they trust—whether those sources are sellers, experts, trendsetters, or friends.
Introduced last year, the eBay feed allows buyers to customize their eBay homepage. We've now introduced new features that take that customized, inspirational experience to a whole new level for buyers, and give you—our valued sellers—a set of powerful tools to tap into these buyers, promote your inventory, and expand your sales—including the possibility of being on the homepage.
Turn Browsers into Fans, Fans into Buyers, and Buyers into Repeat Customers
eBay gives you new tools that work together to attract buyers in exciting new ways:
Create inspiring and engaging collections of products to attract eager buyers who can purchase items right from your collections. Every one of your public collections can attract new buyers by showing up on the new eBay Today page, seen by millions of visitors daily. Your items may even be featured in others' collections.
Create your eBay profile as a central place to showcase your knowledge and expertise, engage with your buyers and share your collections. Your profile is accessible by every eBay user, and a link to your eBay profile also shows up on your followers' profiles.
Buyers can follow you and your collections and have them show up in the eBay feed on their home pages. Buyers who have already saved you as a favorite seller will automatically become your followers.
Cultivate more followers-both on eBay and via social channels like Pinterest, Facebook, and Twitter-with top tips.
Spotlight great inventory and your collections by updating your eBay Store. Sellers will have the option to give their eBay Store a fresh new look that's easy to share on social media.
Building Collections
Create inspiring collections and expose your inventory in a whole new way
Collections are groups of eBay items hand-selected by eBay members, and mixed and matched around a theme, concept, or passion. By creating intriguing and inspiring collections of products, you can attract eager buyers who are able to purchase items right from the collections you create. Your collections can also be exposed to new buyers via sharing from other members and have the potential to appear on the eBay Today page. Items you've listed may even be featured in collections others have created.
Users can post comments on your collections and have ongoing conversations centered around your items or themed collections. Even better, you can engage directly with your potential buyers and highlight your expertise.
Themed Collections
Ready to create? Here's a great example of a themed collection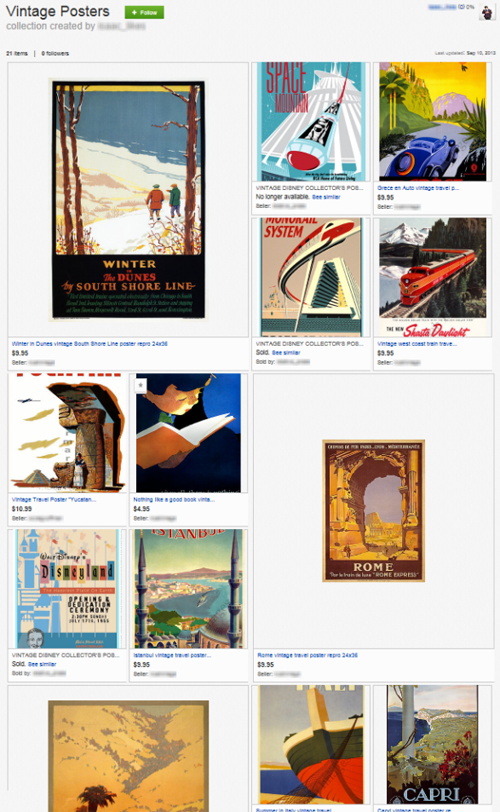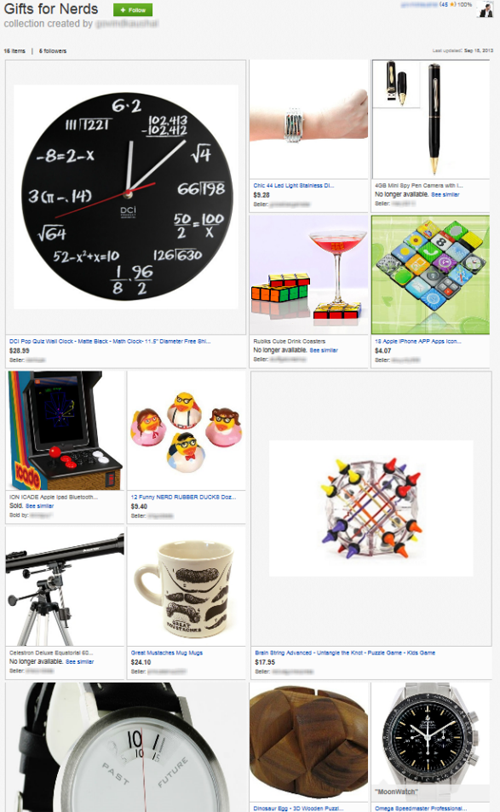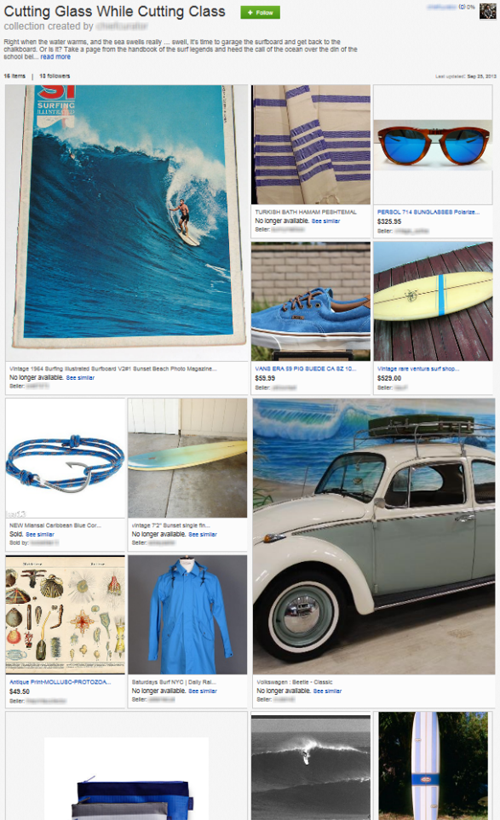 With great photos and a little creativity, you can market yourself in a whole new way by creating collections that showcase the depth and breadth of your offerings, highlight your expertise and experience, and inspire browsers to become buyers.

You can also create collections with a gift recipient in mind.

Collections can go even further, with rich concepts or stories behind the selected items, as shown in this example.
Follow These Top Tips for Building Your Own Collections
Aim to create collections that resonate and inspire discovery. Unleash your knowledge and passion, and let users relate their passions with yours. Include a rich variety of items, and really dig to find that eye-catching item.
Create a number of collections. We recommend creating 5-10 collections, with around 15 items per collection.
Use or seek out tasteful, high-quality images. Buyers are attracted to interesting, engaging and clear imagery. The more attractive and interesting your collections, the more likely they are to gain a following.
Choose a concise and descriptive title that explains what's in the collection. For example, Camera gear for outdoor sports is better than John's stuff.
Add items to your collection that make sense together. Seek consistency each collection's theme should be apparent to the viewer. For example, if you have a collection that features automobile accessories, it'll look a little odd if you add gardening tools to the mix.
To create an even richer experience, add complementary items offered by other sellers to your collections. Buyers prefer to shop from collections that feature a rich assortment of related, complementary items. To keep your collections fresh and compelling, be sure to include items that best illustrate the collection's theme regardless of who is selling it.
Add comments about the items you picked for your collections. This is a way to give your collection extra personality, and explain to other eBay members what makes each item in your collection special.
Fuel the conversation respond to comments that other users post on your collections. Responding to posts from your followers or other users is a great way for you to connect with other members and show off your expertise and ideas. It's not a requirement, but it definitely helps keep interested shoppers engaged with your collections.
Update often by adding new items to your collection. Adding new items means your picks will show up more often in your followers' feeds. Also, collections that are frequently updated are more likely to be featured on other eBay pages.
Factor in social media. Consider how your collections will look on social platforms like Pinterest, Twitter, Facebook, and blogs.
Don't miss these new avenues for selling start creating collections today. Your first one is just a click away.
Creating Your Profile
Personalize your eBay profile to win buyers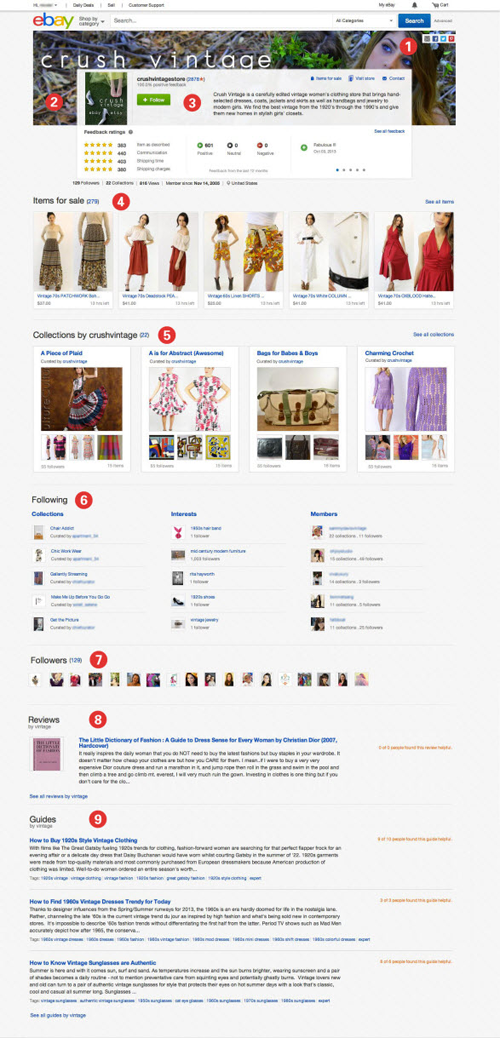 Social sharing widgets

These enable you—and other users—to share your profile on Facebook, Twitter, and Pinterest with just a click. Learn more about sharing via social media.

Cover image

Upload a custom cover image that reflects you, your brand, your inventory, or special offers. If you choose not to upload your own image, a default background will be displayed.

Key information

Showcases the profile image you upload, a description of you or your business, and your feedback and detailed seller ratings (DSRs). It also allows visitors to follow you, quickly contact you, and get one-click access to your eBay Store.

Items for sale

Your items for sale are displayed based on how recently they were listed. For sellers who subscribe to an eBay Store, a link to your eBay Store also appears prominently in your new profile.

Collections

Showcases the collections you've created and made public.

Following

Displays the collections, members, and interests/searches you are following.

Followers

Shows users who are following your profile.

Reviews

Highlights your expertise by showcasing your three most recent reviews.

Guides
To build a compelling, engaging, and informative eBay profile, follow these top tips:

Upload compelling, high-quality profile and cover images

Give members more reasons to follow you: write an informative blurb that highlights your expertise and your business. Be sure to use spell check
Create great collections, as they will be showcased on your profile
Follow other eBay members, collections, and interests so users can see what interests you have in common.
Attracting Followers via Social Media
Showcase your inventory and build sales by attracting followers
The best way to market your inventory and drive more sales with eBay's new functionality is to grow your number of followers. To build a following, create both inspiring collections and a great profile, and follow others other members, collections, and interests that inspire you. When you discover something new, your followers do too.
You should also take advantage of social media to build your following. Facebook, Pinterest, Twitter, Instagram, and YouTube are among the most popular social sites in the US.
Follow these top tips for building a following via social media:
Decide which social media sites you'd like to focus on, and create accounts for each.
From collections to reviews to guides, create and share quality, engaging eBay content relevant to your audience.
On top of your eBay content, be sure to post pictures, ask questions, offer tips and share your expertise.
Engage regularly with your fans and followers thank them for their input and address any customer service questions that might arise.
Post regularly, but not too much and always make sure that your content is engaging.